Ledro 10 ft. x. 10 ft. Enclosed Gazebo Kit - Grey Structure & Hybrid Panels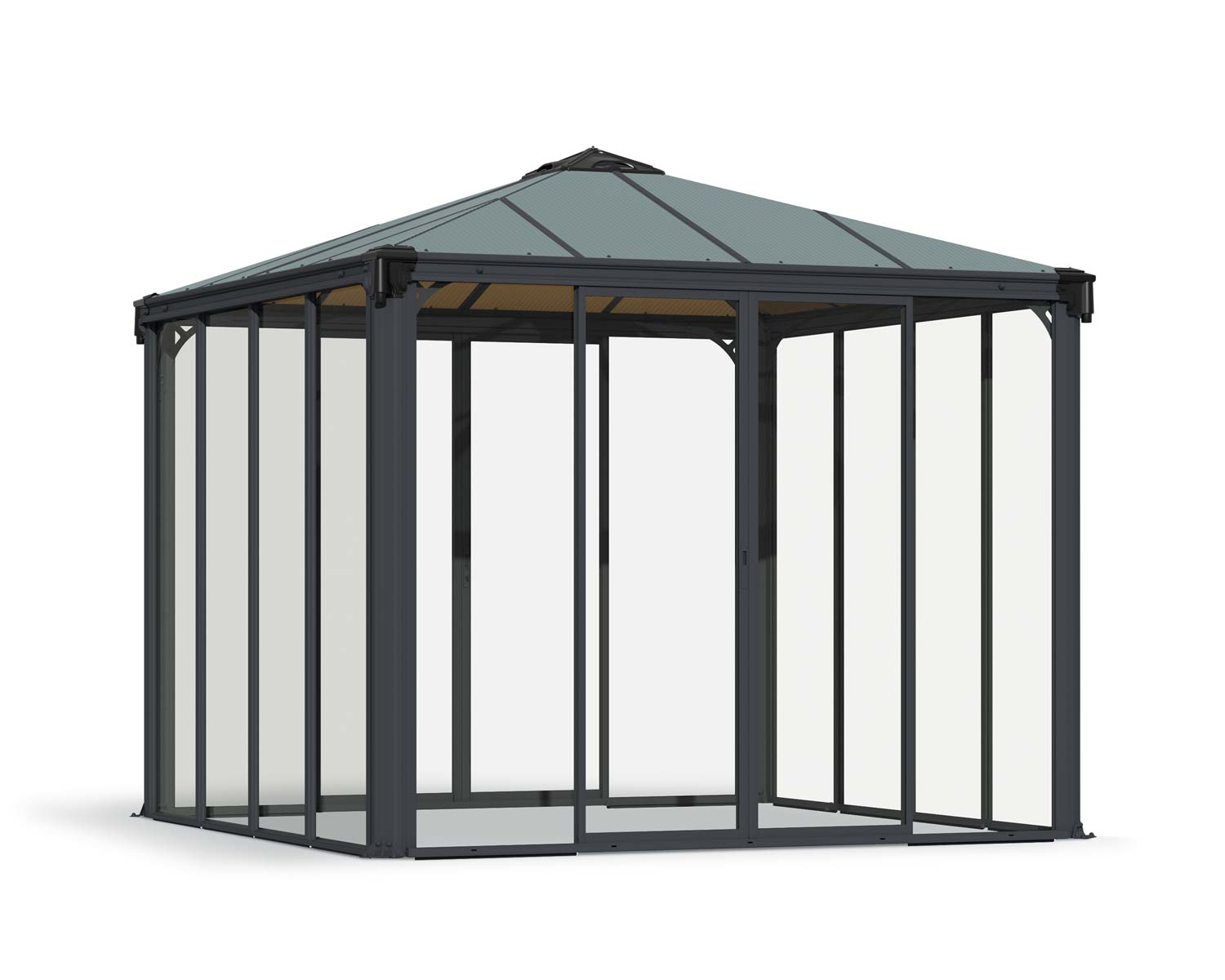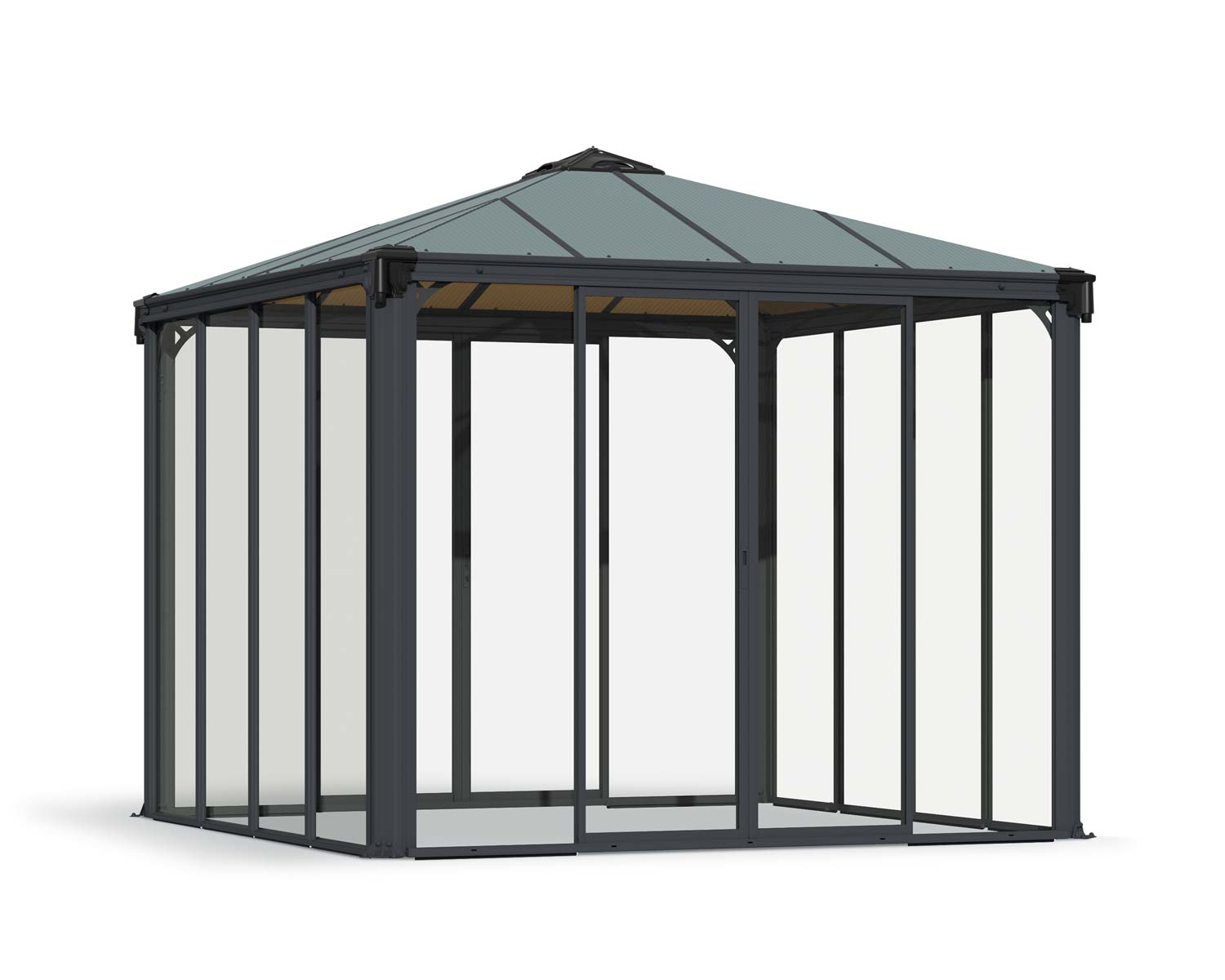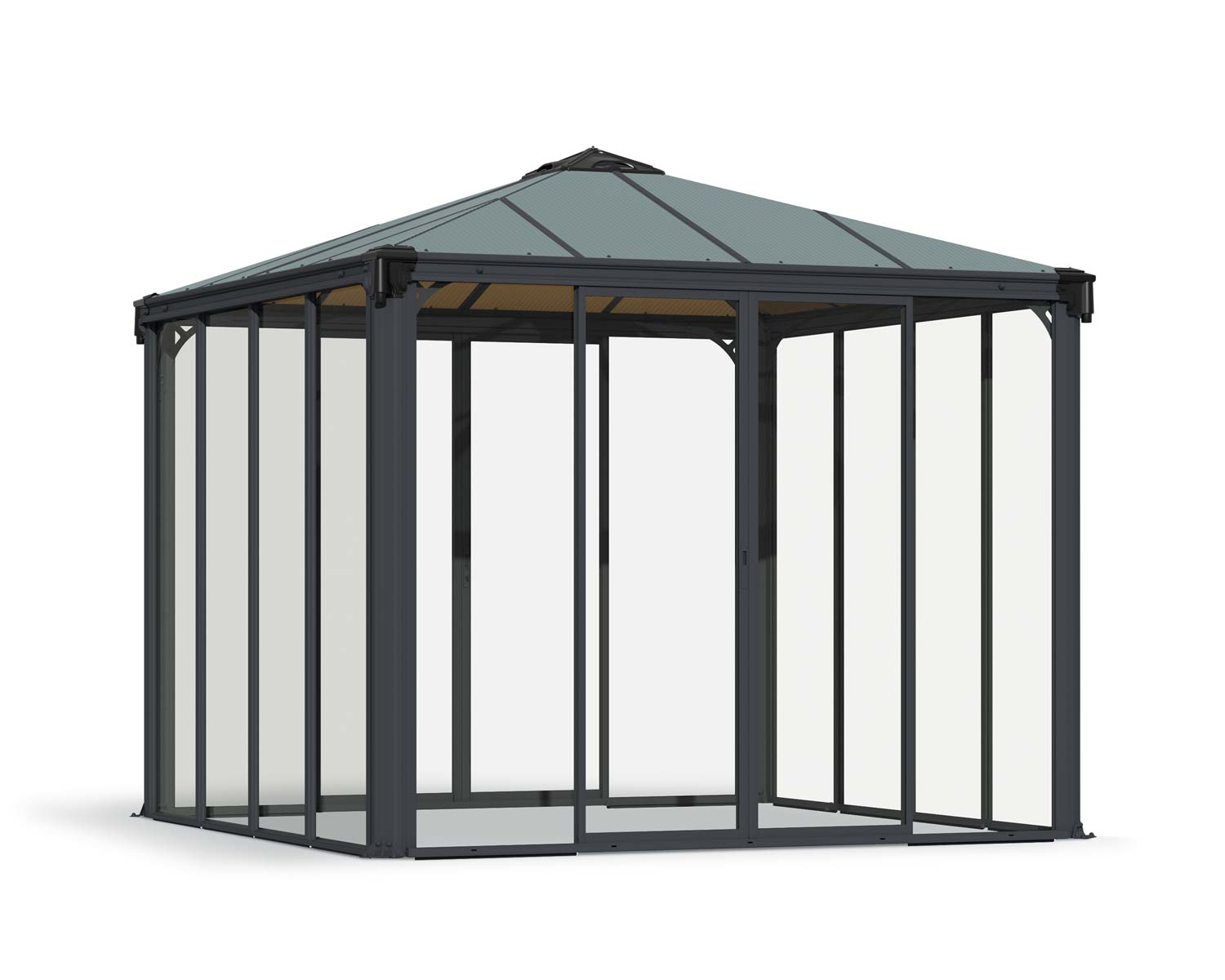 There is something about spending time in a place where the boundaries are blurred between indoor and out. From an enclosed Gazebo to a covered outdoor spa, add your own home oasis with the Ledro. The Ledro outdoor living space provides you with a gorgeous additional room, allowing you to embrace the beauty of the outdoors from within the comfort of the indoors. Meant to be enjoyed year-round, this gazebo is a fantastic opportunity to add value to your home and create a space that fits your needs.
Use your enclosed gazebo for indoor/outdoor dining, a sunroom, as a special place to hold small parties with family and friends, create a garden office, or make your own outdoor covered spa. This sleek pavilion can be put together over a weekend with plenty of time to spare to sit back and enjoy your new room!
Highly durable, elegant enclosed gazebo kit
Firm, rust-resistant, reinforced aluminum structure, engineered to withstand harsh weather conditions
Twin-wall bronze tinted polycarbonate roofing; does not turn yellow or become brittle.
Proprietary screw-free glazing assembly system, specially developed to prevent rain/dew leaks
Large sliding doors allow enjoying the Ledro as a half-open Gazebo or a multi-purpose intimate enclosed gazebo.
Enclosed gazebo ideas fulfill many indoor purposes in the heart of your garden, any season: resting area, reading room, BB, canopy, garden office, party lounge, spa cabin…
100% protection from harmful sun rays (UV) allows endless recreation time outdoor
Maintenance-free and built-to-last thanks to outstandingly durable materials
Made with 100% recyclable components
The Gazebos are available in various sizes. Click to find more Gazebo kits.
Model: #704744



Dimensions
| | | | |
| --- | --- | --- | --- |
| A | Width | 295cm | 9'8ft |
| B | Length | 295cm | 9'8ft |
| C | Height | 276cm | 9'1ft |
| D | Door width | 121cm | 4'ft |
| E | Door height | 203cm | 6'8ft |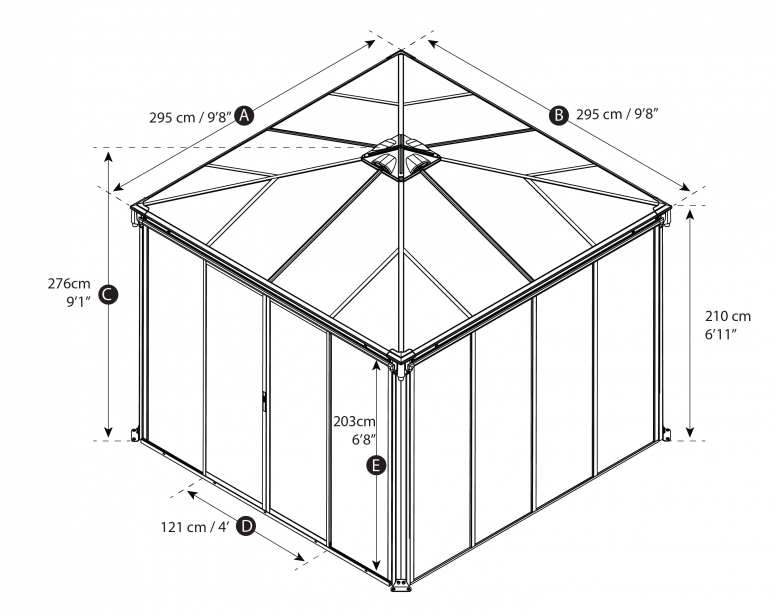 Product Details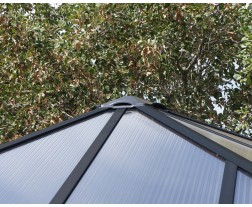 Ventilation
Elegant top vent detail allows air flow and smoke relief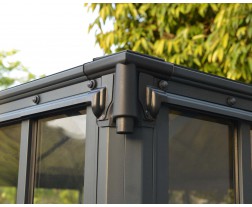 Gutter & gutter heads
Integrated gutter heads ' allow water collection
FAQ
It is necessary to have it anchored as per the instructions, Anchoring this product to the ground is essential to its stability and rigidity. It is required to complete this stage in order for your warranty to be valid.
Yes, you can definitely use a heater inside the closed gazebo. Make sure you follow the manufacturer's safety instructions. Using a heater will allow retention of heat, a suitable heater by Palram can be found online.
Yes, the Sun Room's door can be placed on either side. There are no available screens for the Sun Room. The door swings outward.
No, it is not an option, it cannot be performed.
Yes, it can be anchored to concrete. Base or foundation must be flattened, leveled and prepped prior to installing the product. The product must be built on a solid level surface in order to perform properly. We recommend using concrete or wood deck as base. In addition, It is imperative that the ground surface be perfectly flat and leveled and in a 90° angle to the supporting wall.
The structure can support a ceiling fan hanging from it, it can be installed using the beam's built-in tracks. Please make sure you install the fan and the wiring in a secure way, you may consult with a handyman as to how to attach it to the top.
I am assuming you are referring to a stationary RV. If this is the case, you need to make sure the RV's size is suitable to the requirements. You will need to find the compatible screws and plugs in order to attach the SanRemo to the RV. In addition the SanRemo requires a solid foundation such as concrete, asphalt etc. and the back is supposed to be attached to a structure wall (such as a house's wall). Should you attach it to a vehicle; the lower part (where the wheels are) will remain open.
The SanRemo can be installed on a deck and attached to a house with vinyl sidings. Please consult with an expert / constructor with regards to the screws and plugs you should use for your specific wall type and trex deck.
There are screen doors that can be added (to be purchased separately) and these can be installed without removing the existing doors.
Yes, you can definitely use a heater inside the closed gazebo. Make sure you follow the manufacturer's safety instructions. Using a heater will allow retention of heat, a suitable heater by Palram can be found online.
Assembly instructions & Certificates for Downloads
Foundation
The product must be built on a solid anleveled surface in order to perform properly.
Important
We recommend checking for restrictions or covenants for building this product in your area. In addition we advise to check if you need to submit any forms or if any permit is required prior to building the product.
Choose your foundation type
Need help making a purchase decision?
Fill out the form below and we will help!