How to Choose a Door Awning
When you hear "door awnings", what picture comes to mind? It used to mean pastel-colored, striped, and scalloped but our door awnings are anything but outdated in addition to being very practical.
Have you ever had to stand in your doorway in the pouring rain, rummaging for keys with all the grocery bags you can handle in your hands? A front door awning protects you from that. Or have you noticed that your front door has been fading from the sun? A porch awning will prevent that. Or does your home need that little something to improve the exterior? A door awning makes such a big difference in the curb appeal of your house, framing your door, adding visual interest to your home, and bringing it all together.
But how do you choose?
When you are researching different DIY door awnings, consider the material, because you want something that lasts, the size, because you want something that fits, and the style, because you want it to look great.
Choosing a material
When you are looking for a door canopy, you want materials that are uniquely suited to withstand harsh weather conditions and you want them to last for many years. Palram – Canopia door awnings are specially engineered just for this with aluminum frames and polycarbonate panels.
In your search, you'll come across door awnings with plastic frames, which look less sophisticated, stainless-steel frames which look more industrial, and sleek aluminum frames, which are our preference. Here's why: Our metal door awnings are incredibly durable, rust proof, and they look great.
Roof panels are another consideration. Do you prefer double wall or single wall? Single wall, or solid panels, are as clear as glass. They reduce direct sunlight without darkening your doorway and block up to 100% of harmful UV rays to protect your entryway from sun damage and wear.
The high impact solid polycarbonate panels that we use are ultra-resilient and use a screw free glazing system to prevent rain and dew from leaking through.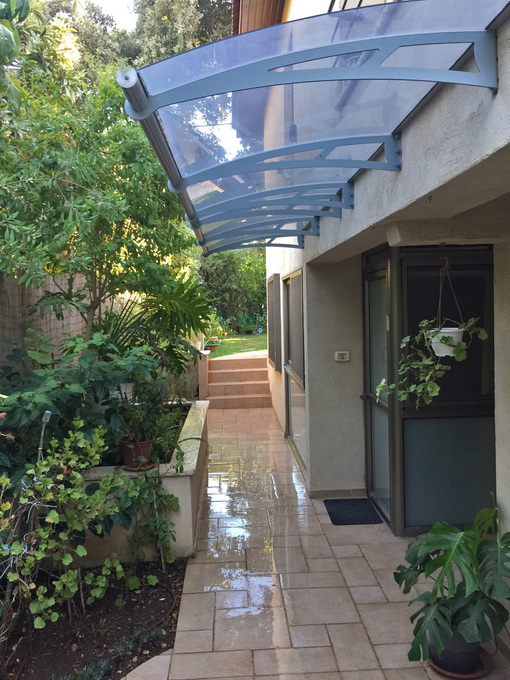 Choosing a size
Doors and windows come in all sizes and so should their awnings. We offer a range of different sizes from the Neo that is 4' long to the Herald that is 21' long to suit your different sizing needs. When measuring your space, we recommend making sure to account for enough space to cover the entire area you want to protect and not just the size of your actual door or window. To get a feel for it, you can cut out a piece of cardboard in the size that you are thinking of and temporarily put it up.
Choosing a style
Choosing what style of door canopy you want is perhaps the part that throws the most people, so we have broken it down for you into three categories:
For the traditional architectural style home, we offer a large range of classic door awning designs like the Aquila, Capella, Amsterdam or Bordeaux, to enhance and reflect the timelessness of your home, echoing the symmetry and elegance.
With clean, crisp lines, a simple color palette and a sense of simplicity, our modern line of door awnings like the Bremen, Nancy, and Sophia complement modern architectural design. These DIY door overhangs are equally at home with modern, minimalist doors and thick, rustic wooden doors.
Incorporating elements of design from decades past, our retro porch canopy kits like the Venus, Iris, and Lily, give your home a Victorian feel. These awnings also give off a very European look and pair beautifully with an abundance of flowers.
In the end, choosing the right window, door, or porch awning comes down to what works best for you and your space. Learn more abouve all of our available door awnings.
Why choose a Palram – Canopia Door Awning?
There are many reasons to get a door awning and many door awnings on the market, why should you choose Palram – Canopia?
High quality material and construction for ultimate durability
Your awning will be exposed to all the elements the climate throws at it. If it's a Palram – Canopia awning, it's specially designed to withstand harsh weather conditions both in material and construction. Our door awnings are made of high-quality aluminum frames, construction-grade polycarbonate panels, and galvanized steel brackets.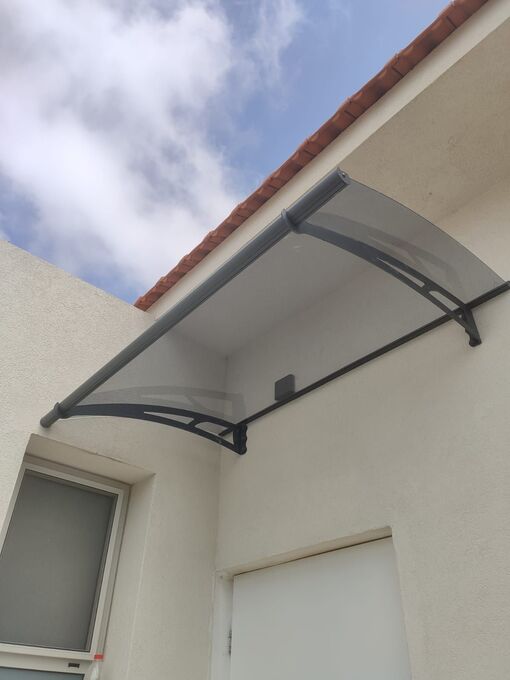 It may seem obvious, but it is imperative that the frame is sturdy and reliable, which is why we use corrosion-resistant aluminum. You want to reduce direct sunlight and block harmful UV rays to preserve your entryway from sun damage and wear, but without darkening your doorway, so we use glazed polycarbonate panels. They are solid, high impact panels and screw- free, preventing rain and dew from leaking through. And they are supported by the laser cut and powder coated galvanized steel support arms. They don't just look attractive, they do the job and they do it well.
Additional features
We think about your experience from start to finish. This means that we have designed the installation with a smart locking system, included all the installation hardware, use pre-cut easy sliding and lightweight panels and include an anchor kit for brick, block, and concret. It's fast, easy, and secure.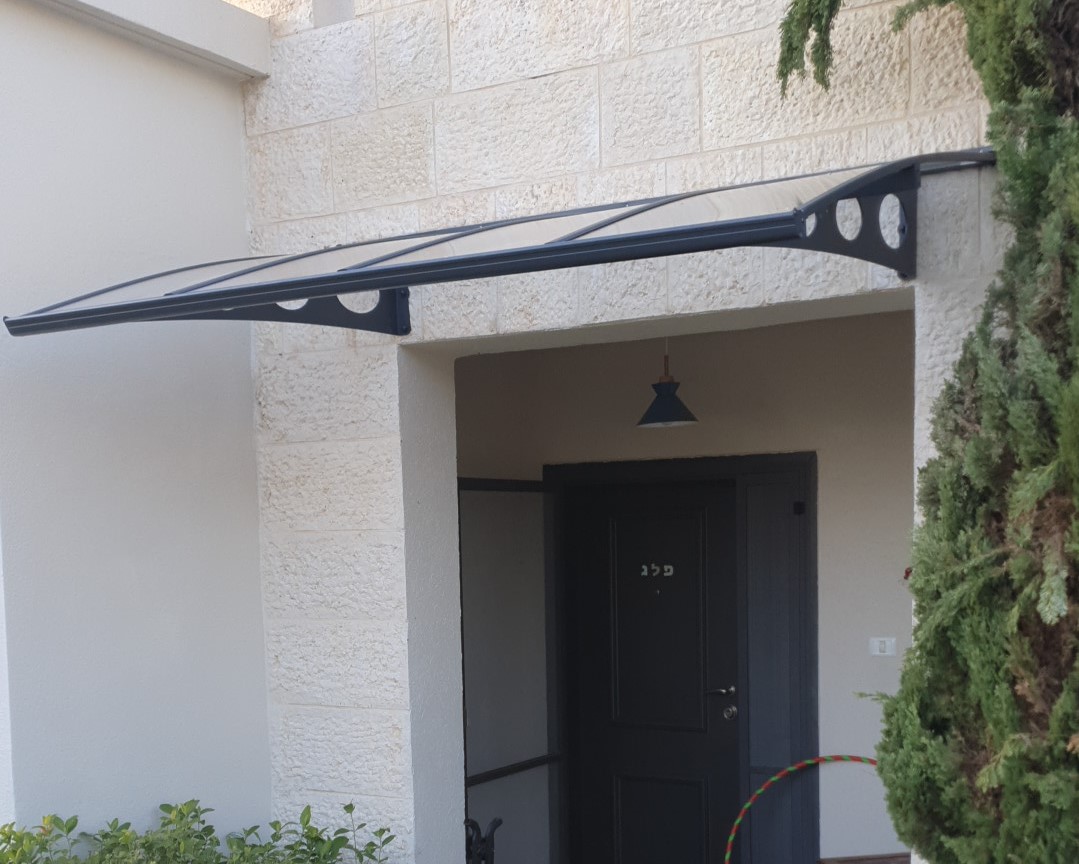 Local customer service for every step of the way
When we say we think about your entire experience, we mean even after you purchase. We are committed to providing you with the highest level of customer service. We have an international network of locally based distributors who pride themselves on advising the markets they serve. No question is too small, no dream is too large.
We are about reliability. Both of our products and our service. We stand behind it and we stand behind you. We want you to have the outdoor space of your dreams and we are here to help make that happen.
Need help making a purchase decision?
Fill out the form below and we will help!