How to Choose a Gazebo
There is something so romantic about a gazebo. It feels cozy and magical and turns the ordinary into the extraordinary. But how do you know which gazebo kit is right for you?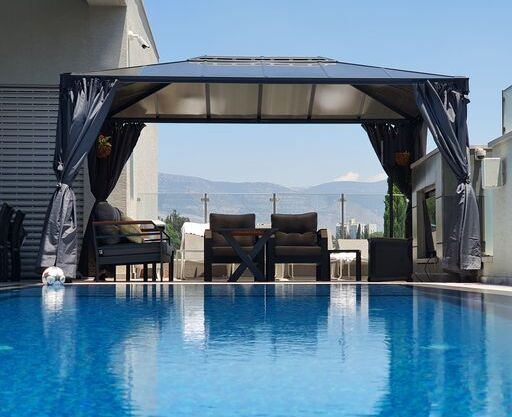 Here's what you should consider when choosing an outdoor gazebo
Purpose and Location
Imagine how and when you'll be using your gazebo. When choosing a gazebo, even the practical considerations become daydream worthy. Where are you going to put your gazebo? Will it be a restful backyard sanctuary, nestled among the foliage in your yard for some privacy and intimacy? A place for mediation, reflection, and relaxation? Or do you want it to be in the midst of all the backyard action, for a delightful resting area as you watch your kids run around or for socializing at parties and events?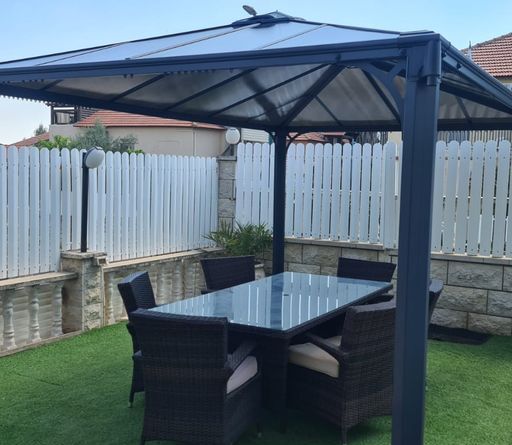 Style
Think about the style of your space. Once you know the main purpose of your DIY gazebo, choosing the size and shape comes next. There is of course, the matter of what will fit, but don't forget to think about how it will look in your space. Both in size and style. You might want the modern look of a flat roof gazebo like the Milano or the romance of a hexagonal gazebo like the Roma or Monaco. The classic design of the Palermo might be more of your thing or the coziness of an enclosed gazebo like the Ledro or Garda. You might want to get the Martinique, a hardtop gazebo that is on the "The 6 Best Gazebos of 2021" list for a reason or show off with the most robust aluminum gazebo on the market, the Dallas.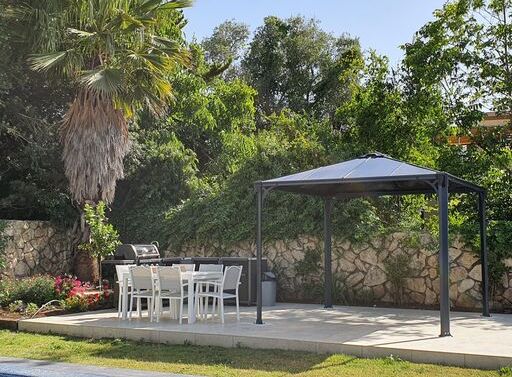 Size
Let the size reflect your ideal gazebo purpose. When thinking about what size you want, 10-foot gazebos like the Ledro are ideal for more intimate activities and functions, like practicing yoga, family dinners, and small gatherings. If you love entertaining large groups of guests, have a large family, or want a lavish space all to yourself, the 14×14 Palermo gazebo might be the best choice for you.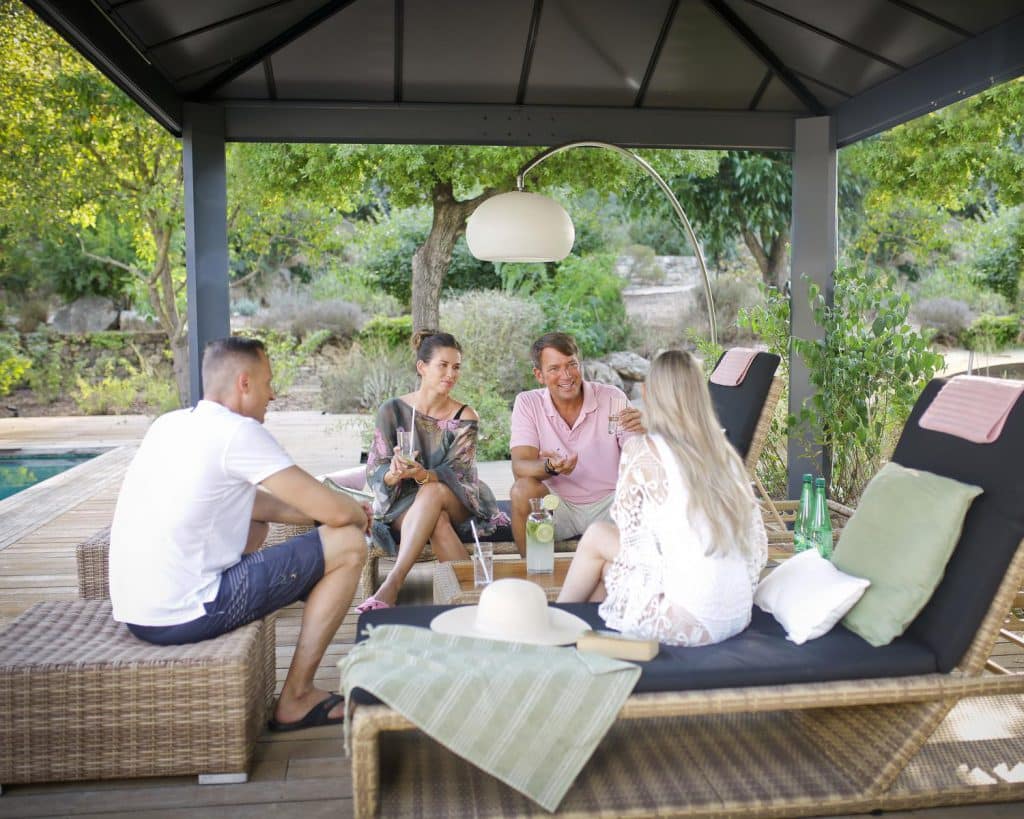 Features
What will make the entire experience even more special for you? Lastly, you want to think about which features you want. Depending on the climate where you live, you may prefer a tinted roof that lets the sunlight in or opaque glazing to keep it cooler. Do you want an enclosed gazebo to provide additional refuge from the harsh sun and soaking rain while still enjoying the outdoors or are you more interested in an open gazebo and adding luxurious curtains for elegance and netting to keep out those summer insects? Maybe you prefer having a fully open gazebo to create fluid movement in your space. Whatever your gazebo needs are, we've got you covered.
For examples of how other customers have used their patio gazebos.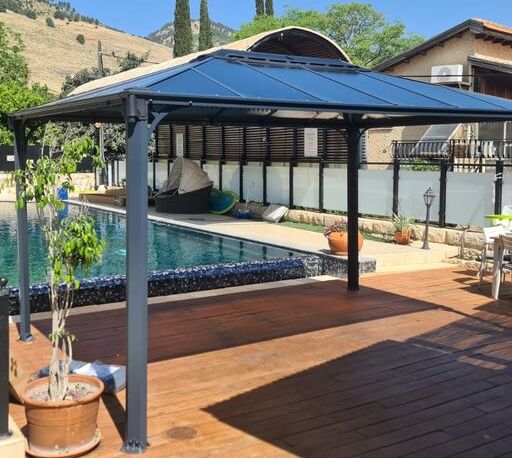 Why choose a Palram – Canopia Gazebo?
When someone knows that they want a gazebo, their next question is typically (and rightfully) what is the best brand of gazebos for sale? At Palram – Canopia aluminum, any gazebo that you decide is right for you will have all the features you really want. Let us walk you through it.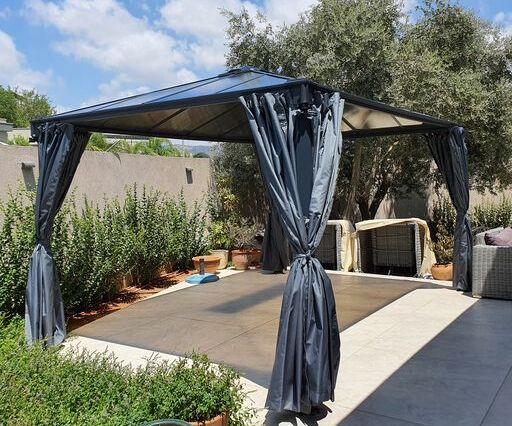 Our gazebos are sturdy, durable, and maintenance free
Palram – Canopia takes very specific measures to give you peace of mind about the durability of your gazebo, such as: using thicker and sturdier posts, thicker aluminum, and bolt protective covers to protect the bolts from rust and corrosion. It doesn't stop there.
All our hardtop gazebos are constructed without screws. Practically, this means you don't have to worry about your gazebo roof leaking from dew or rain or that the panels will become loose over time. Our patio gazebos are also made without any welding, so you won't see unsightly rust buildup.
We know that patio covers are exposed to the weather, so all our backyard gazebos are certified for snow load and wind resistance in addition to the 16 included concrete anchors ensuring even more stability.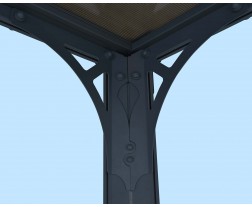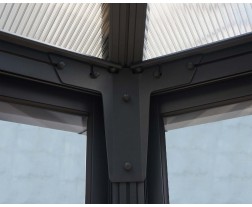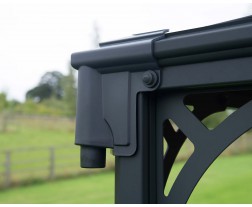 We keep your comfort in mind
Typically, when you get a metal gazebo, the roof transfers a lot of heat, and you really feel that standing underneath it. If you are looking for respite from the scorching sun under your outdoor gazebo, the last thing you want is a concentrated amount of heat, you want to be protected from it. Our gazebo roofs are made of polycarbonate panels with shade levels of 85% to 100%, so you are sheltered from the heat with 100% protection from harmful UV rays and can relax in comfort instead.
We designed our gazebos with a higher entry beam for more comfortable access and offer weather-resistant curtains that can be zippered closed for ultimate privacy.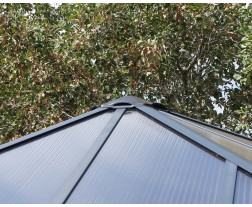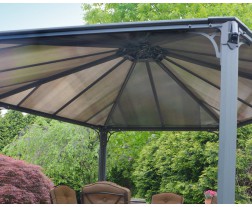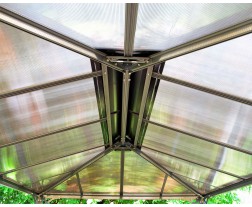 Local customer service for every step of the way
It's not all about quality and features. When you make the decision to buy something that you will have for years like a gazebo, you want to know that the company you are buying from has your back. And we do.
We are committed to providing the utmost in reliable customer service. We have an international network of locally based distributors who pride themselves on faithfully advising the markets they serve. There is no question that is too small, no dream too large. Our company was founded and thrives on the challenge of identifying and solving consumer needs and desires.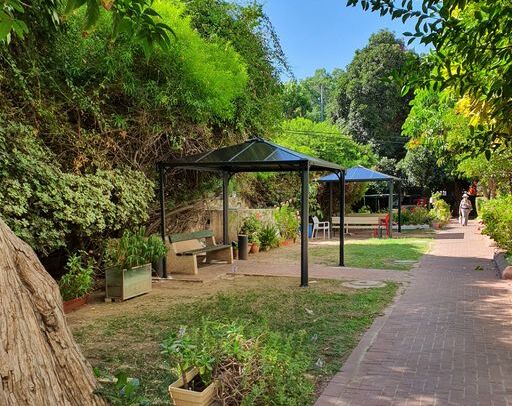 At the end of the day, we are about reliability. Both of our products and our service. We stand behind it and we stand behind you. Our goal is to help you achieve yours. We want you to have the outdoor space of your dreams and are here to help make that happen.
Need help making a purchase decision?
Fill out the form below and we will help!