How to Choose a Greenhouse
There is something so dreamy about a space dedicated to growing whatever you want. It speaks of self-reliance, fulfills that creative need, and brings you in line with nature.
You know that you want to get a greenhouse, and you can't wait to start working on your garden and see the fruits (or vegetables) of your labor but knowing which the best greenhouse to choose can be intimidating. There are a lot of things to take into consideration before you choose and you might be feeling overwhelmed but don't worry, we've laid it all out for you.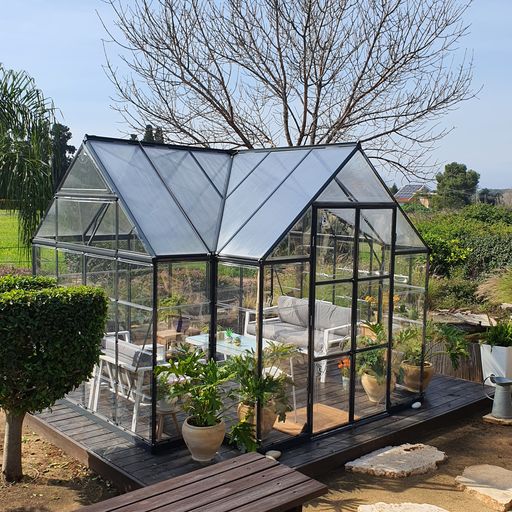 Here is how to choose which greenhouse kit is right for you:
First, decide on a location
Which plants you want to grow and the climate where you live dictates where you put your greenhouse.
While sun exposure is arguably the most important consideration, depending on which plants you want to grow, that may not be the case. For instance, if your goal is to grow plants to maturity or continue to grow plants into the fall and winter, you will need maximum amounts of sunlight. For propagation cuttings, transplants, and growing plants from seed, you want a location that is partially shaded. Alternatively, you can choose a sunny area and add shade cloth to reduce the amount of light inside the greenhouse.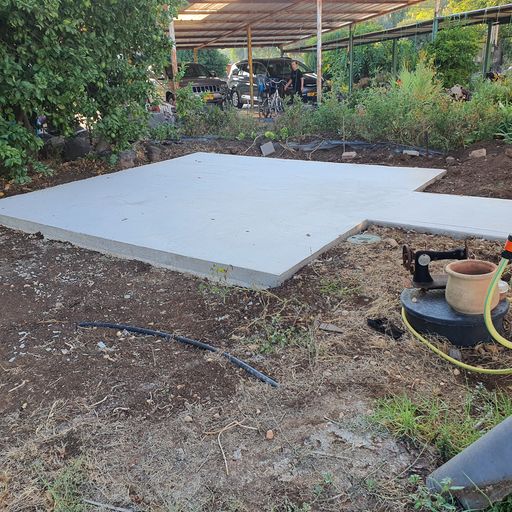 Also, consider whether you need access to a water or electrical source. Depending upon available sun exposure, your greenhouse may need additional heating. Some greenhouses can be placed against the door of your house such as our Lean-to Grow House. If this isn't an option, we offer greenhouse heaters to help.
The last location consideration is height, how much headspace you want in your greenhouse. While every Palram – Canopia greenhouse has enough headspace to work, if you are looking for extra room, check out the Glory and Americana.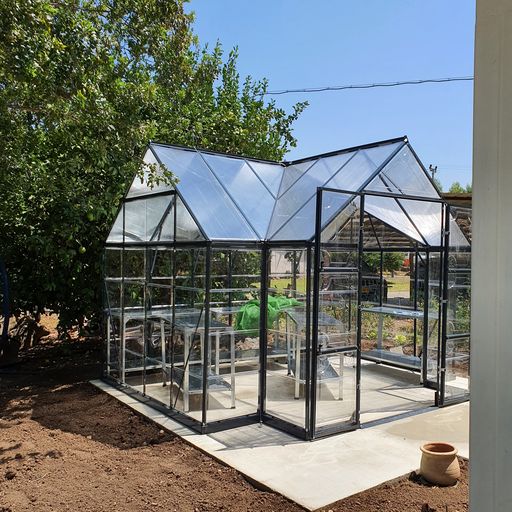 Determine what glazing you need
Your climate and which plants you want to grow also determined what glazing you want. Polycarbonate is undoubtedly the preferred choice in greenhouse panels, with the advantages of glass but safer and more durable. As the industry leader in polycarbonate, we are proud to offer three glazing options in many styles and sizes: single-layer polycarbonate greenhouse, double or multi-wall polycarbonate greenhouses, and hybrid greenhouses.
The question is which polycarbonate greenhouse would work best for you? Diffused panels disperse light more evenly, but if you live in an area where you need more sun exposure or want to see more clearly into your greenhouse, you would choose single-layer polycarbonate, which is completely clear. Our hybrid greenhouses have diffused roof panels and clear wall panels, giving you the advantages of both if that suits your needs.
Next, measure your space
Now that you know the best place to put your greenhouse and what sort of glazing you need, let's talk about greenhouse size. At Palram – Canopia, we offer a wide range of greenhouse sizes to fit your space from small greenhouses like the 4'x4′ Plant Inn to large greenhouses like the 12'x12′ Americana.
When measuring your greenhouse, you want to make sure to take into consideration the space surrounding it to build it as well as ease of access to it.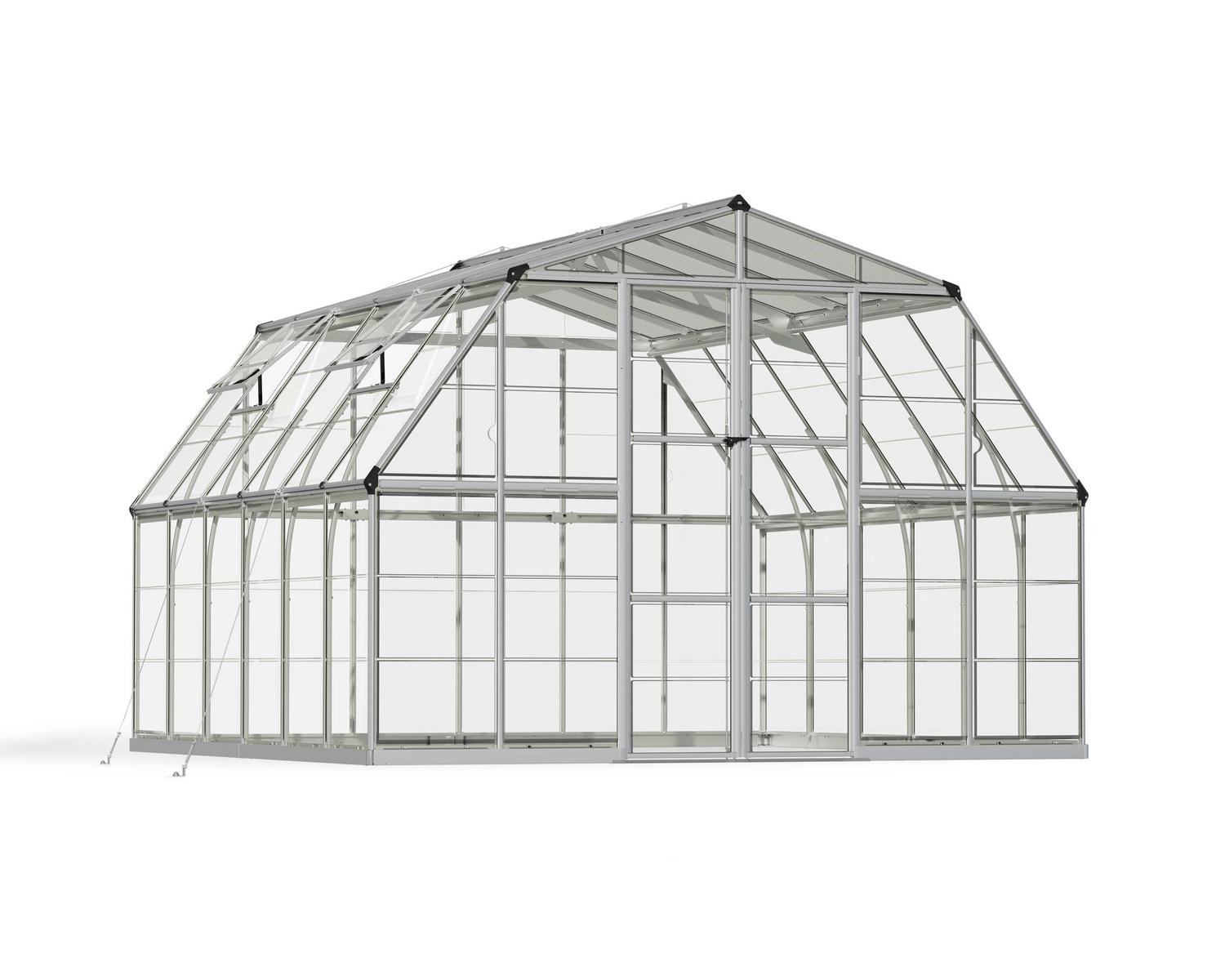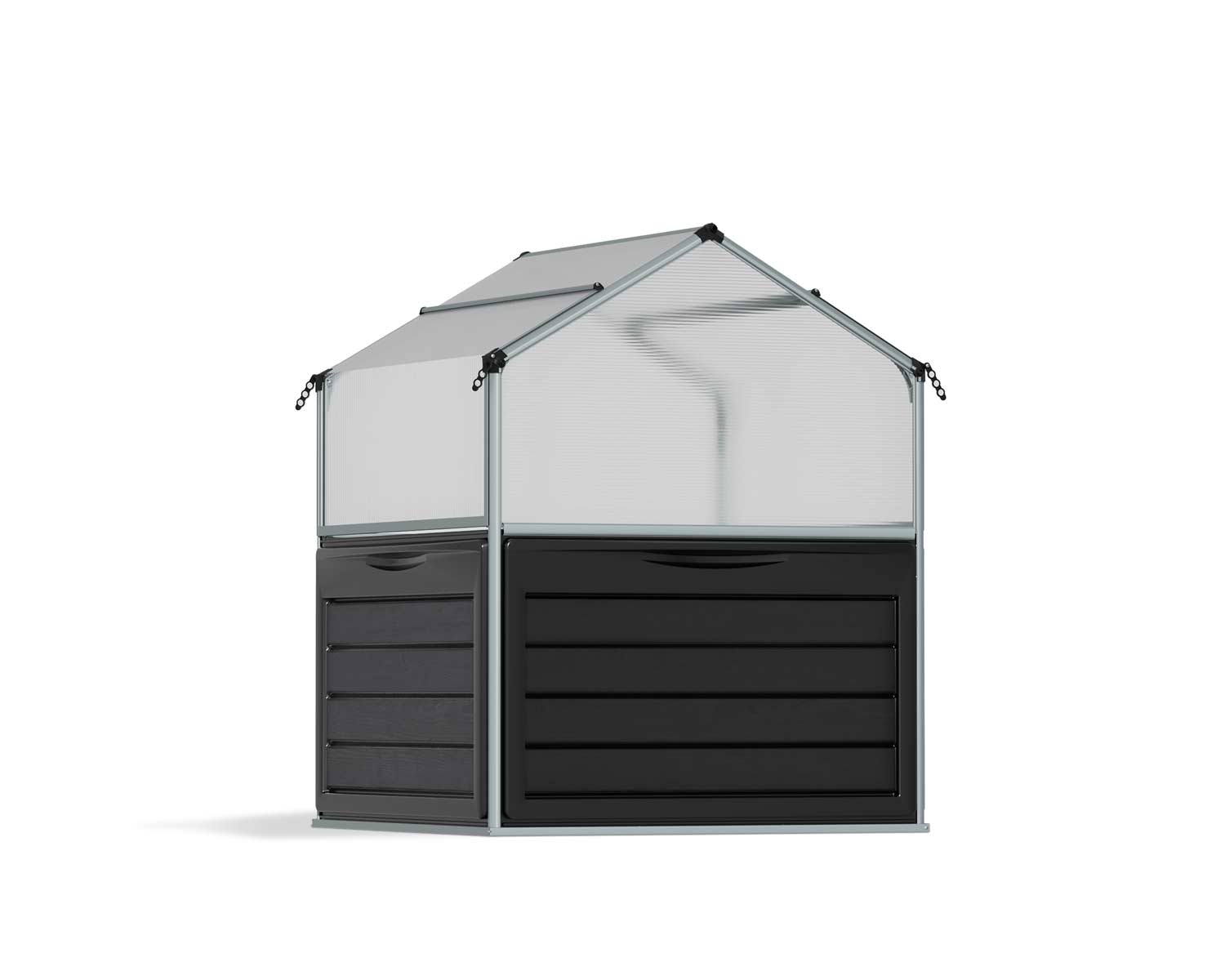 Think about your climate some more
When considering which is the best greenhouse kit for you, you also need to plan for the wind load and snow load in your area. Depending on where you live, you may need the Bella or the Glory for wind resistance of up to 56 miles per hour and a snow load of up to 20.5 pounds per square foot.
Now comes the fun stuff
Now you get to decide on which of the different color frames you want! Then all you need to do is place your order at one of our many retailers. Here you can find tips on how to build a DIY greenhouse once you've got it.
If you still need help deciding, feel free to reach out to us.
Why choose a Palram – Canopia greenhouse?
With all of the greenhouse kits on the market, an educated consumer is going to ask: What is the best greenhouse? Why should I choose a Palram – Canopia greenhouse? Are you the right choice for me? We think we are and here's why.
Let's start with quality
All Palram – Canopia greenhouses use polycarbonate panels and aluminum frames. This may not mean very much to you if you are not immersed in this world, so let us explain:
Polycarbonate is, in the simplest terms, an extremely high-end plastic. It is so strong that it is referred to as "transparent steel". Basically, it is virtually unbreakable and extremely weather resistant, but with that glass-like appearance, we all love greenhouses. The difference between polycarbonate and glass isn't just how much more durable polycarbonate is, it is also the safer choice.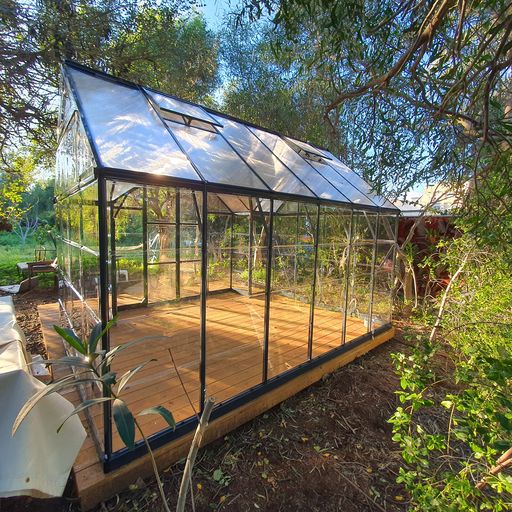 You get that polycarbonate is the best choice for a greenhouse, but there are other companies that sell polycarbonate greenhouses, so why ours? Palram has been manufacturing these high-quality polycarbonate panels for over 30 years. We only use high-grade polycarbonate in the manufacturing process and embed a UV protective layer. This minimizes discoloration and brittleness over time. If you invest time, money, and effort into this greenhouse, you want it to last as pristinely as possible as long as possible.
These panels slide securely into heavy-duty aluminum frames without the need for clips. This means that assembly is easy, and the structure is secure. Our aluminum frames are resilient, with a thicker profile than standard structures, making them wind and weather resistant.
Strong quality features
All Palram – Canopia polycarbonate greenhouses feature hinged, rather than sliding doors to ensure a tighter seal against the elements. The result is a stronger, tighter, and more secure structure that will last for years. We always include a greenhouse base with every model and our warranty is for 5-10 years on all parts. Not just the panels, not just the frame, we guarantee every part of our greenhouses.
It's not all about quality. When you make the decision to buy something that you will have for years and will become a part of your everyday life like a DIY greenhouse, you want to know that the company you are buying from has your back. And we do.
Reliable customer service
We are committed to providing the utmost in reliable customer service. We have an international network of locally based distributors who pride themselves on faithfully advising the markets they serve. There is no question that is too small, no dream too large. Our company was founded and thrives on the challenge of identifying and solving consumer needs and desires.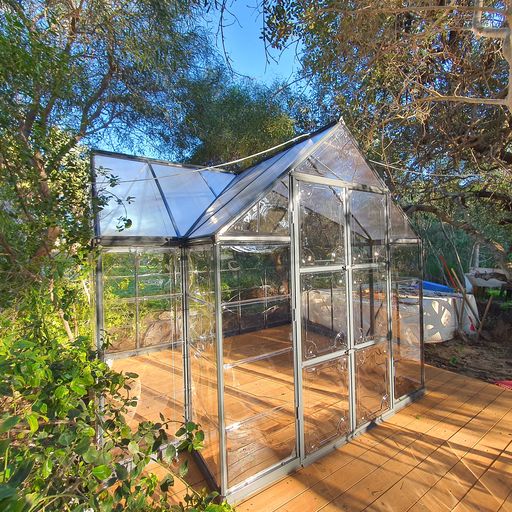 At the end of the day, we are about reliability. Both of our products and our service. We stand behind it and we stand behind you. Our goal is to help you achieve yours. We want you to have the outdoor space of your dreams and are here to help make that happen.
Need help making a purchase decision?
Fill out the form below and we will help!