Neo 2 ft. x 8 ft. Door Awning Kit - Grey Structure & Twin Wall Panels

There are many reasons to get a Front Door Awning. The front of your home typically has the most exposed features to the elements, standing in the doorway while it's raining or snowing is unpleasant, and your front door and steps don't need to be repaired as often since they are shielded from the rain and harmful sun rays. Get all that and some major curb appeal with the Neo Door Awning. Designed to be extremely weather-resistant, blocking 100% of harmful UV rays and constructed to be ultra-durable, the Neo is a maintenance-free choice. With thick polymer support arms and a modern design, the Neo Door Cover looks good with most styles. Get your Door Canopy today and upgrade your home in no time at all!
Safe ultra-durable awning, designed to finely decorate and protect your entry way, doors and windows.
Blocks up to 100% of harmful UV rays, to preserve your openings from sun damage and depletion.
Keeps your entrance clear and your door protected from rain.
Life-time resilient glazing; does not fracture, become brittle or turn yellow over time.
Proprietary screw-free roofing assembly system, specially developed to prevent rain/dew leaks.
High impact polymer support arms, specially engineered to withstand harsh weather conditions.
Clean-lined, classic design.
Friendly and safe DIY assembly kit.
Maintenance-free, built-to-last thanks to outstandingly durable materials.
Made with 100% recyclable materials.
Model: #703855



Dimensions
| | | | |
| --- | --- | --- | --- |
| A | Length | 273cm | 8'11"ft |
| B | Width | 85.5cm | 2'10"ft |
| C | Height | 30cm | 12"ft |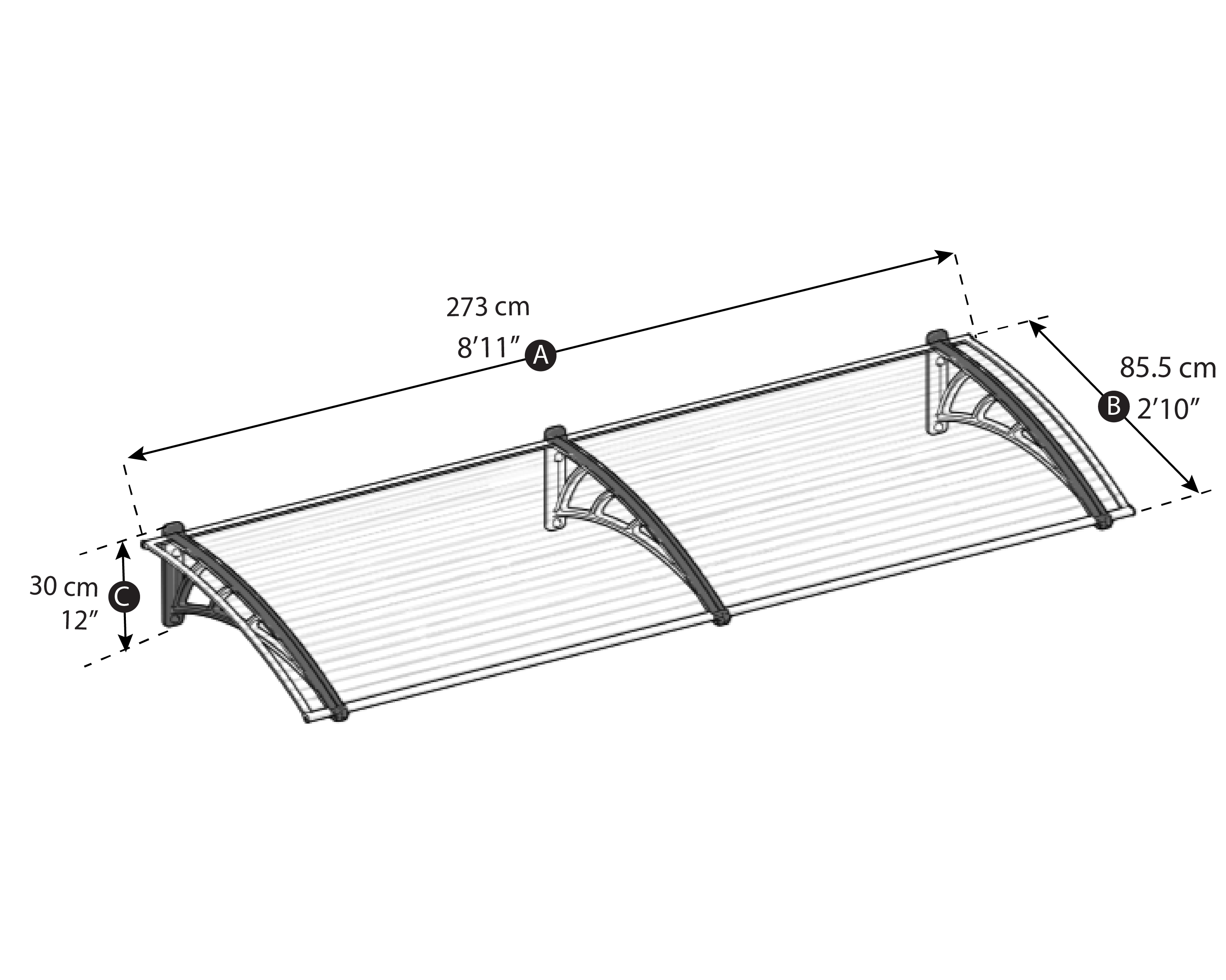 Product Details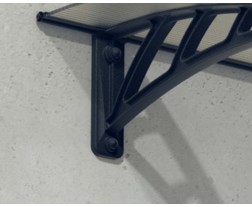 Mounting
Mounting hardware included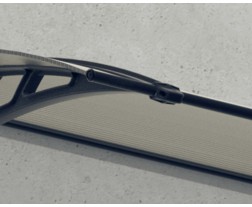 Frame Material
High impact Polymer support arms (RAL 7016) Front and back aluminum protective edges with side Polycarbonate profiles for panel protection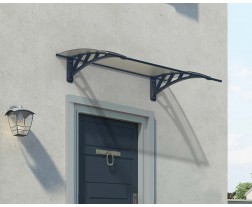 Roofing panel
Virtually unbreakable, 6 mm Twin-Wall Polycarbonate panel, blocks 100% of the harmful UV rays 100% UV protected; does not discolor, fracture or become brittle over time Ready to assemble pre-cut panel
FAQ
Yes, it is possible to install on a mobile home. Please use suitable screws and plugs to it to your mobile home, consult with a local expert / constructor. Please make sure there is enough space above the door in order to install and easily open the door.
Yes, it can be mounted on a wood house. Please consult with an expert / constructor with regards to the type of screws and plugs you need for your specific wall type. (Screws and plugs for wood are not supplied).
It has to be sealed to the surface it is mounted onto, in order to prevent water seepage. It can be mounted onto a compatible (self-made) board that will provide a unified, solid space to mount the product onto. Make sure you secure it with suitable screws and plugs.
Yes, it is possible to install on vinyl sidings, make sure you used suitable screws and plugs for your wall type. A kit suitable for mounting on vinyl siding can be found online.
Need help making a purchase decision?
Fill out the form below and we will help!