Oasis 12 ft. Greenhouse Kit - Grey Structure & Hybrid Panels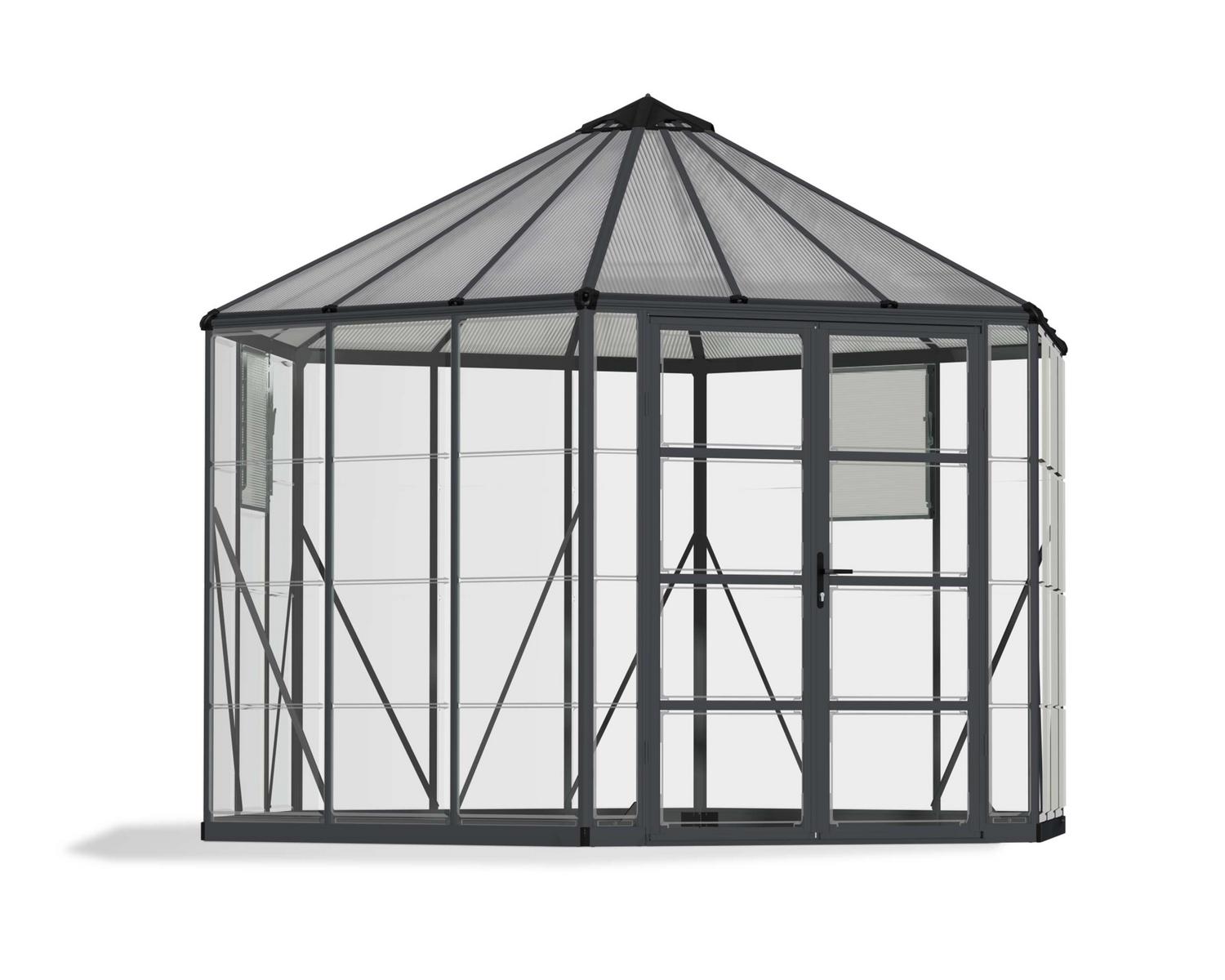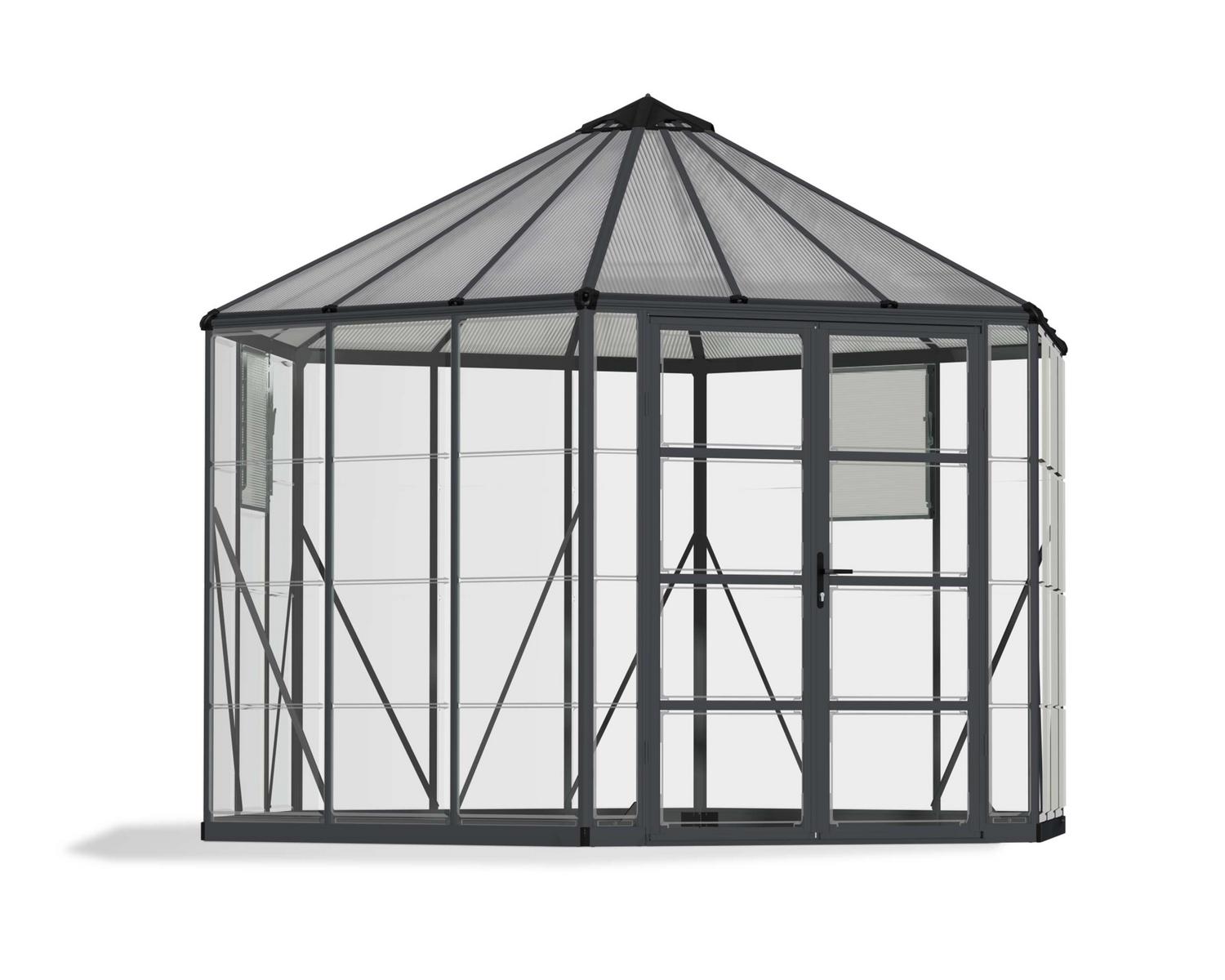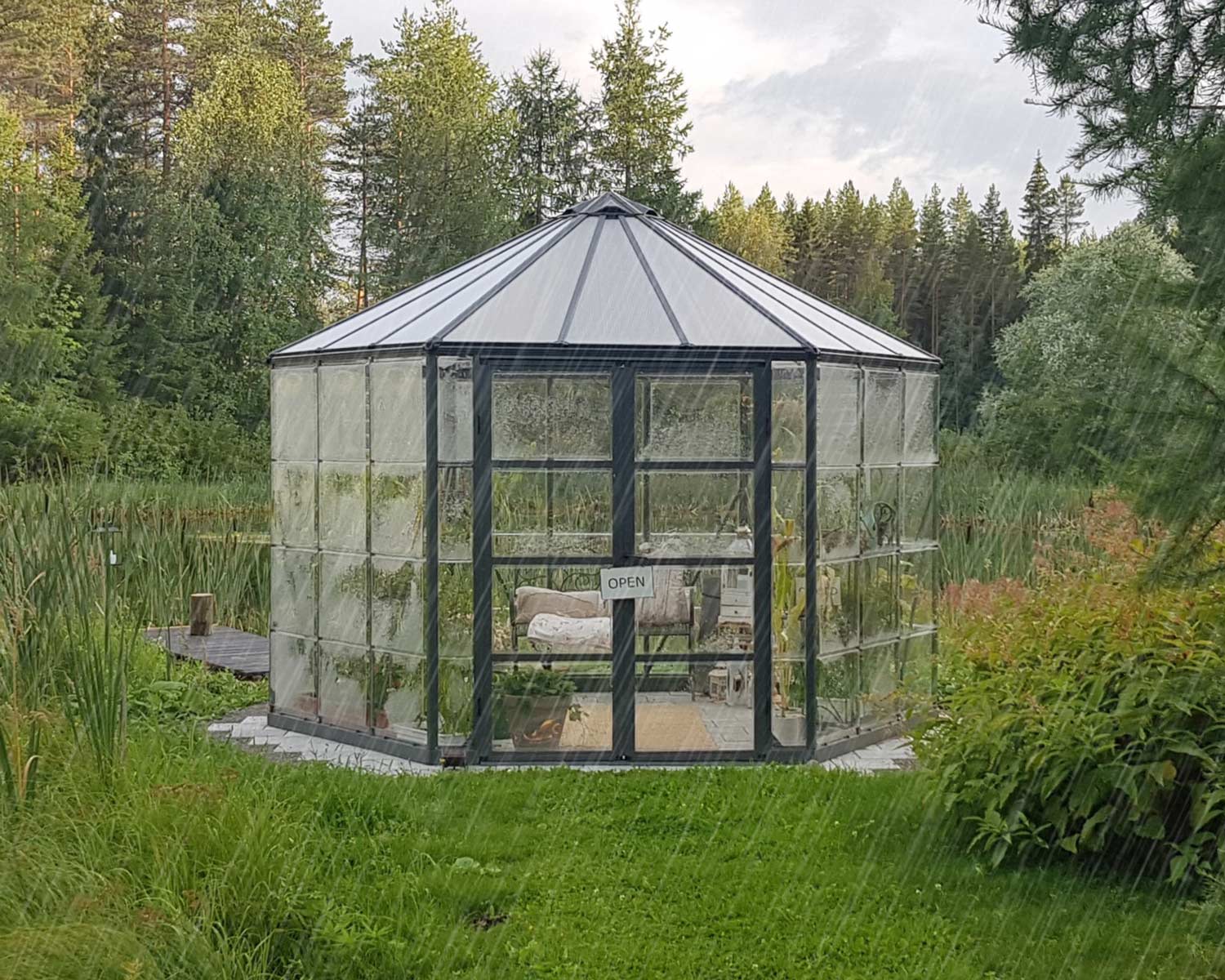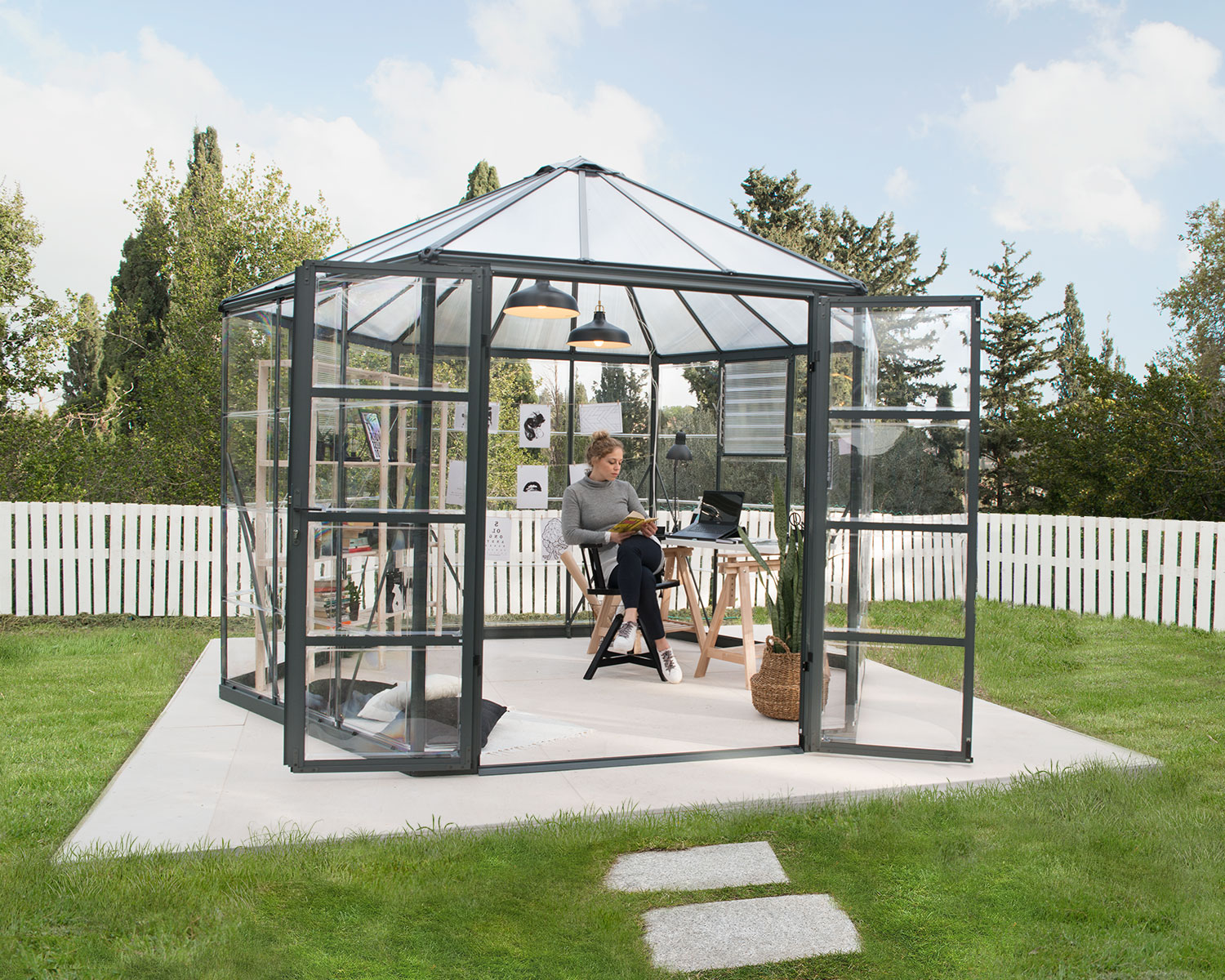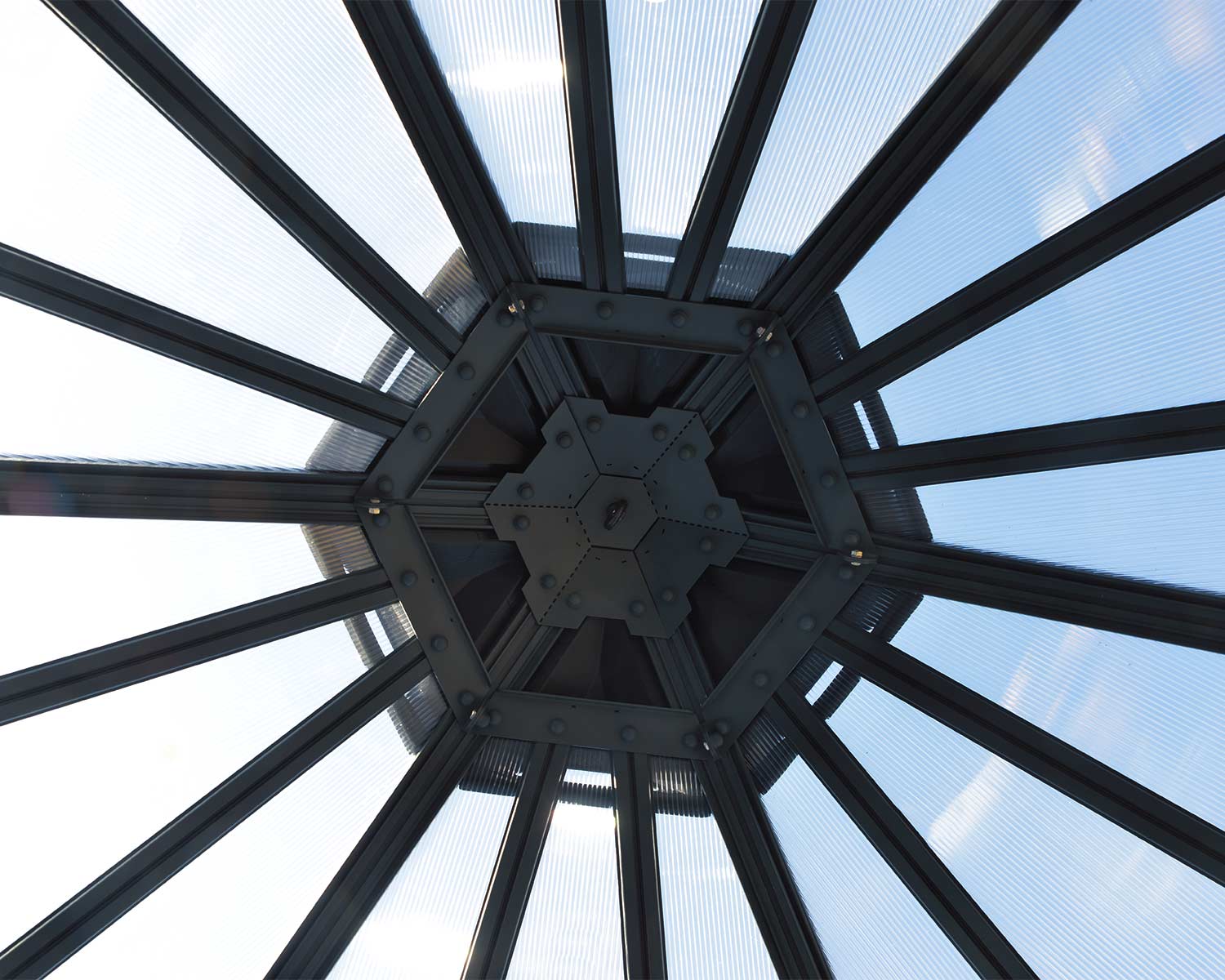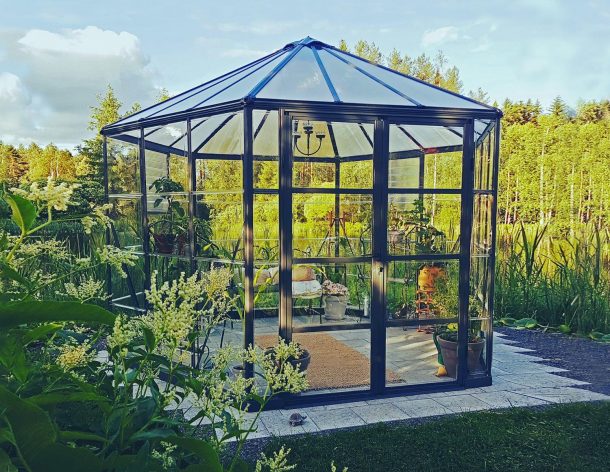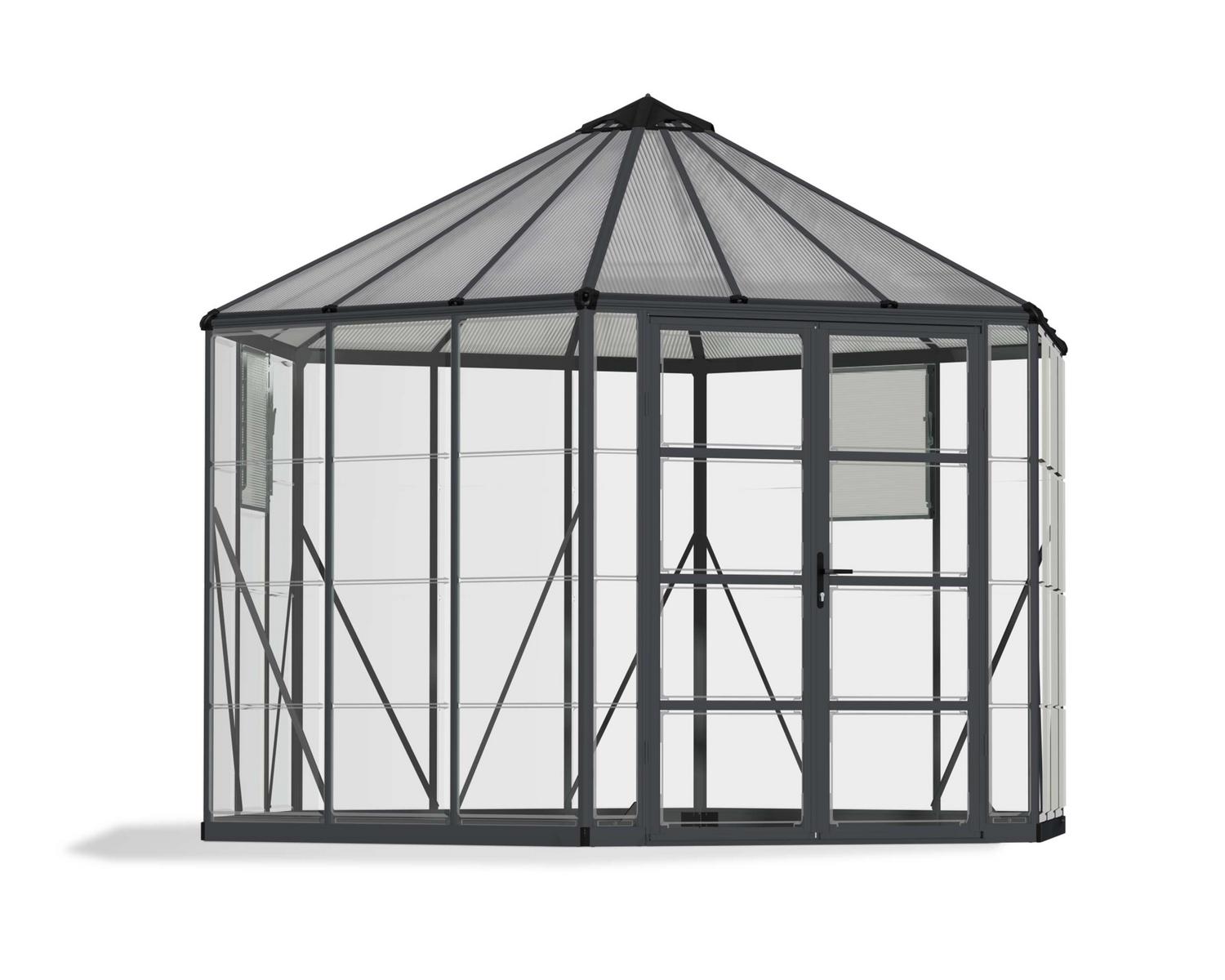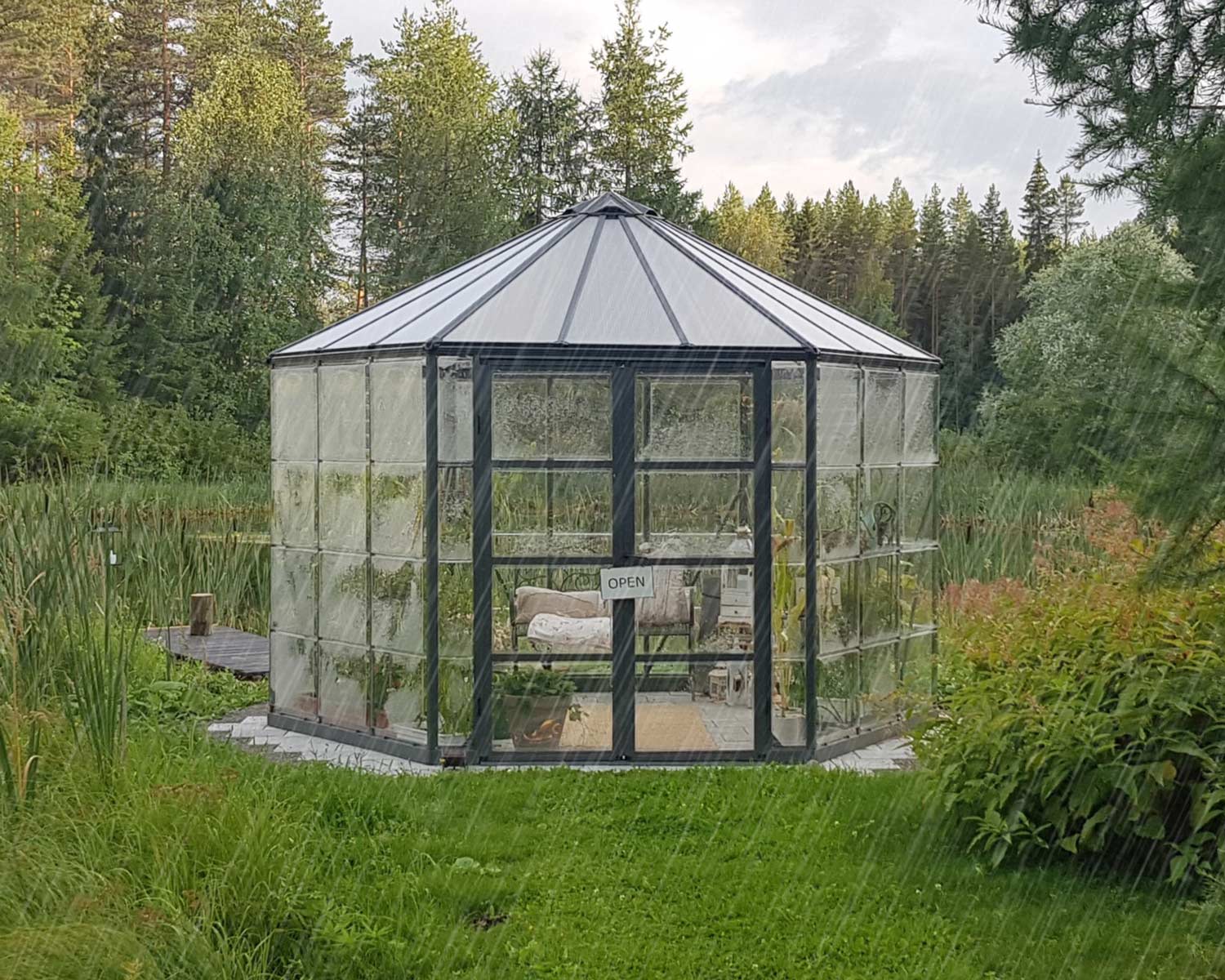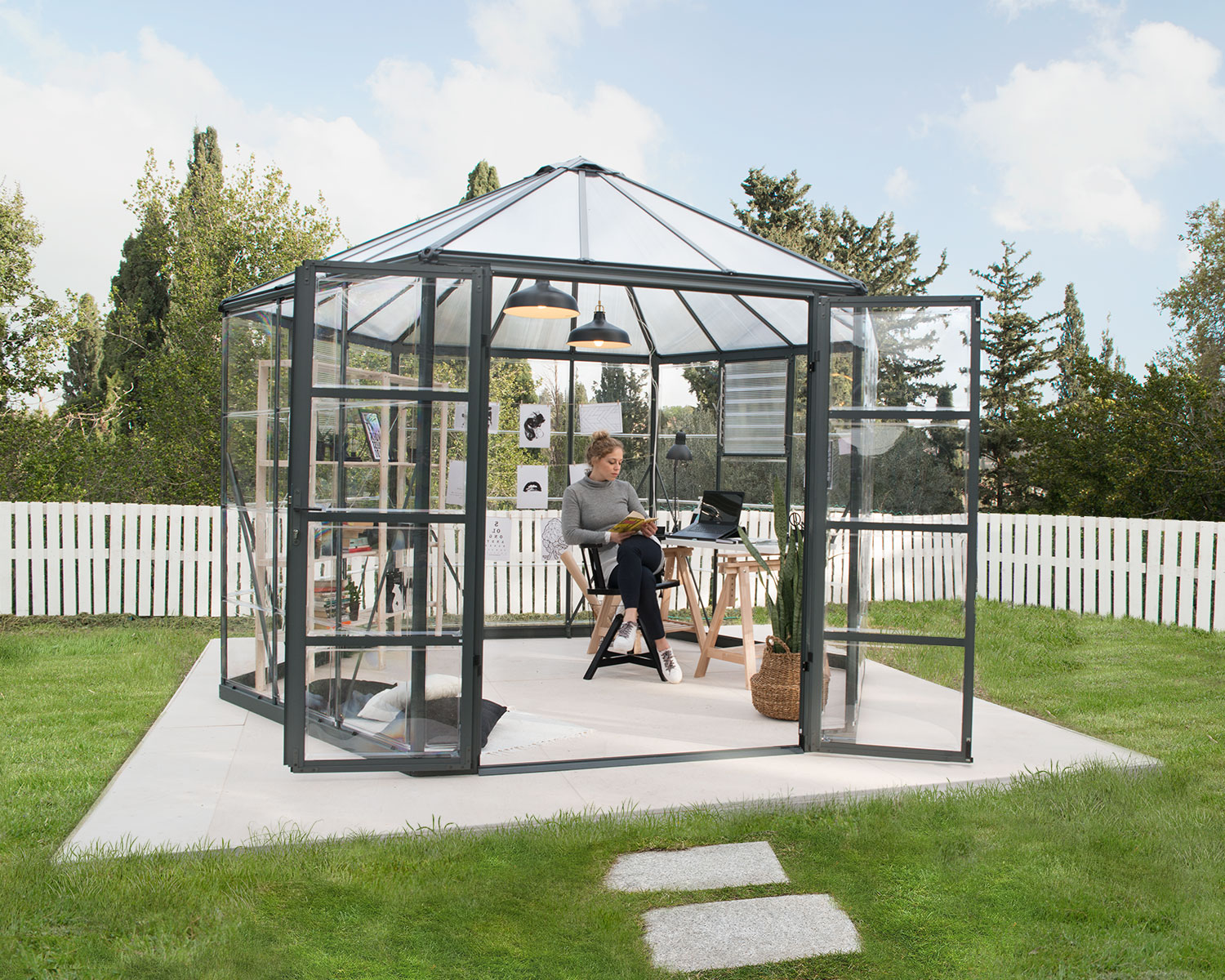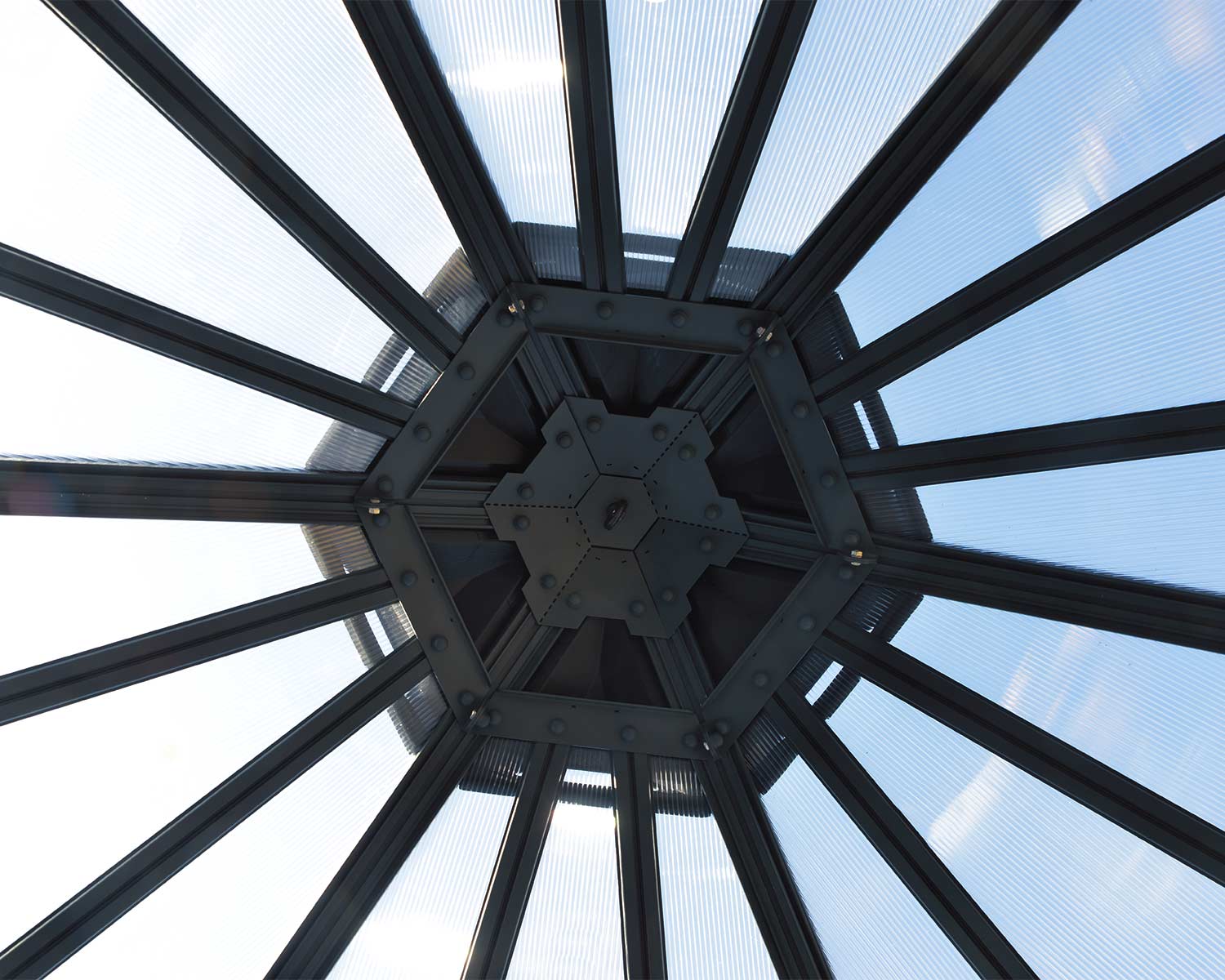 Create your own little piece of heaven in your garden with the 12 Ft. Oasis Greenhouse. The Oasis Greenhouse Kit has an elegant hexagonal design, generous growing area, and balanced nurturing conditions, making it an enjoyable and successful environment ideal for growing your own organic garden or creating your own backyard oasis.
The polycarbonate twin-wall roof panels and crystal-clear side panels help your plants thrive with a well-balanced exposure to sunlight. This backyard greenhouse is easy to install, includes a galvanized steel base for structural support, a lockable double door, a side louver window for ventilation, and an integrated gutter system for water drainage and collection. The hexagonal greenhouse blend of form and function in both design and material gives it the flexibility to fill your needs, whether that is a greenhouse, an outdoor office, or a contained outdoor lounging area.
Build your own backyard oasis today with the Oasis Greenhouse!
Spacious, highly resistant, and safe polycarbonate greenhouse (blends Fine Shield Technology™)
Combines two types of glazing for balanced light exposure
Provides up to 100% protection from harmful sun rays (UV)
Life-time resilient polycarbonate plastic walls; do not turn yellow or fracture over time.
The greenhouse has a reinforced, non-rusting, robust aluminum structure.
High double-door offers improved work conditions and easier access.
Stylish hexagonal design greenhouse that offers ample headroom and 360° look-around clear scenery
Built-to-last thanks to outstandingly durable materials
Maintenance-free greenhouse kit
Protects your plants from the elements so that you can enjoy an extended growing period.
The greenhouses are available in various sizes. Click to find more greenhouse kits.
Model: #705239




Dimensions
| | | | |
| --- | --- | --- | --- |
| A | Length | 363cm | 12'ft |
| B | Width | 316cm | 10'4ft |
| C | Height | 289cm | 9'6ft |
| D | Door width | 132cm | 4'4ft |
| E | Door height | 184cm | 6'ft |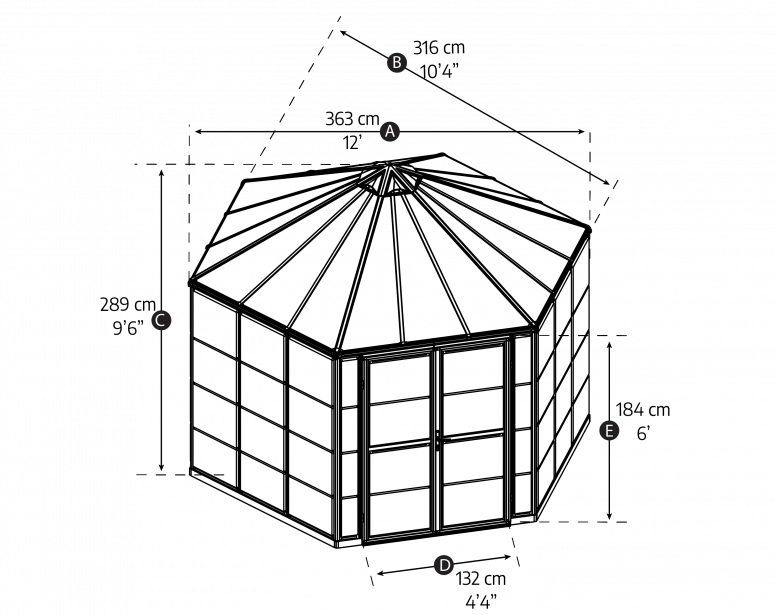 Product Details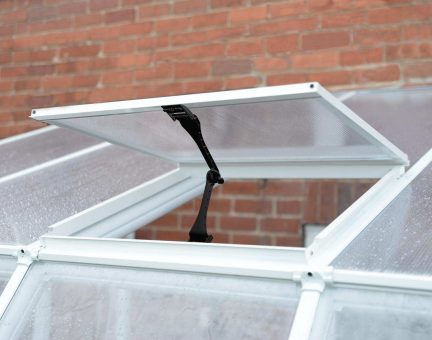 Roof vent
Provides airflow and allows regulation of heat and humidity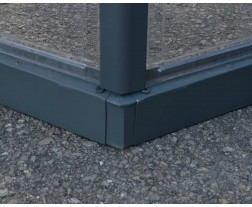 Galvanized Steel Base
Adds structural stability
FAQ
No, it is not an option, it cannot be performed.
Yes, it can be disassembled, relocated and reassembled at a different location.
No, it is not an option to get doors on both ends.
It is not possible to install the Lean To Grow House' door at the other side. It is possible to install only as shown in the instructions.
The greenhouses do not come with a floor or base.
Yes, the polycarbonate panels are high impact resistant and withstand hail.
The warranty for all our greenhouses is for at least 5 years, some for more. The crystal-clear single layer or twin-wall polycarbonate panels maintain their integrity, they do not discolor, opacify, fracture or shatter over time.
Each wall section can carry up to 44 lbs. at most – an entire wall would depend upon the greenhouse' size.
Assembly instructions & Certificates for Downloads
Foundation
Important
We recommend /////
The product must be built on a solid anleveled surface in order to perform properly.
Important
We recommend checking for restrictions or covenants for building this product in your area. In addition we advise to check if you need to submit any forms or if any permit is required prior to building the product.
Choose your foundation type
For a foundation, we recommend using three material types: Concrete / Pressure-treated wood/ wood deck / Paver blocks.
Need help making a purchase decision?
Fill out the form below and we will help!