Roma 12 ft. x 14 ft. Gazebo Kit - Grey Structure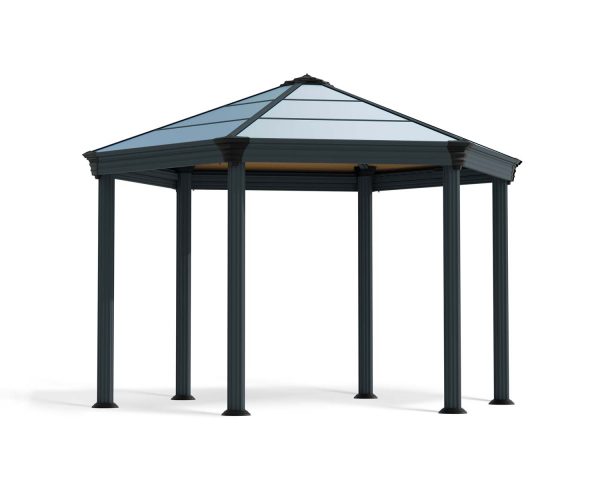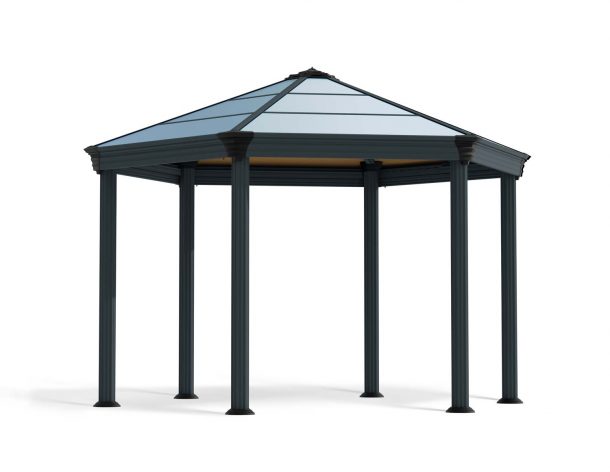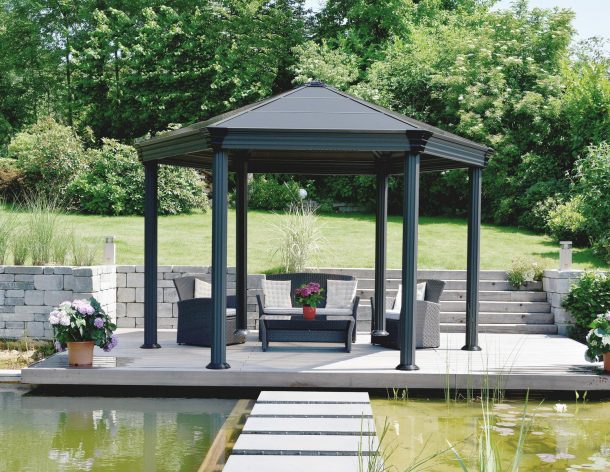 If you want one more excuse to spend more time outside, the Roma Garden Gazebo is it! This luxurious gazebo gives you a protected, beautifully designed space whether you need a covered retreat from the rain, or shade on a hot sunny day. Designed to be as functional as it is charming, the Roma serves as a place to host events, relax on your own with a good book and a glass of wine, or have an intimate dinner with your family. Turn your outdoor area into an elegant space that fits your lifestyle to be enjoyed year-round!
Unique screw-free roofing system o Easy sliding panels' installation
Virtually unbreakable 6 mm twin-wall polycarbonate roof panels are high impact and shatter-resistant
Treated unique bronze glazing -transmits natural sunlight on overcast cloudy days yet provides sufficient shading for hot sunny days
Panels maintain their integrity, provide complete UV blockage, and are 100% UV protected; they do not discolor, fracture or become brittle over time
Withstands severe weather conditions -no need to remove panels during the winter season
Robust structure -reinforced design with a durable and corrosion-resistant anthracite powder coated finished aluminum profiles and galvanized steel connectors
Engineered to meet strong winds and heavy snow loads when properly assembled and anchored to a solid base such as concrete or asphalt. Wind tested to 120 km/h and snow load rating: 250 kg/m²
Simple 2-person DIY assembly -ready to assemble pre-cut panels and pre-drilled profiles; all screws included
Elegant top vent detail allows airflow and smoke relief
Anchoring and foot-pads included -6-post structure can be relocated and re-anchored
Sturdy 15 x 15 cm aluminum poles
Includes central hanging hook with multi-purpose mounting holes
Threading electrical cables (fan, lamp, etc.) is possible through the roof profiles and poles• Can be used as a smoking shelter
Gazebo comes equipped with integrated rails and a kit of hangers that can be used for hanging curtains and netting and flowerpots etc. (sold separately)
Designed and constructed with weatherproof, waterproof, maintenance-free materials creating a beautiful outdoor space
The Gazebos are available in various sizes. Click to find more Gazebo kits.
Model: #703445



Dimensions
| | | | |
| --- | --- | --- | --- |
| A | | 414.5cm | 13'7"ft |
| B | | 359cm | 11'9"ft |
| C | | 304.6cm | 9'11"ft |
| D | | 209cm | 6'10"ft |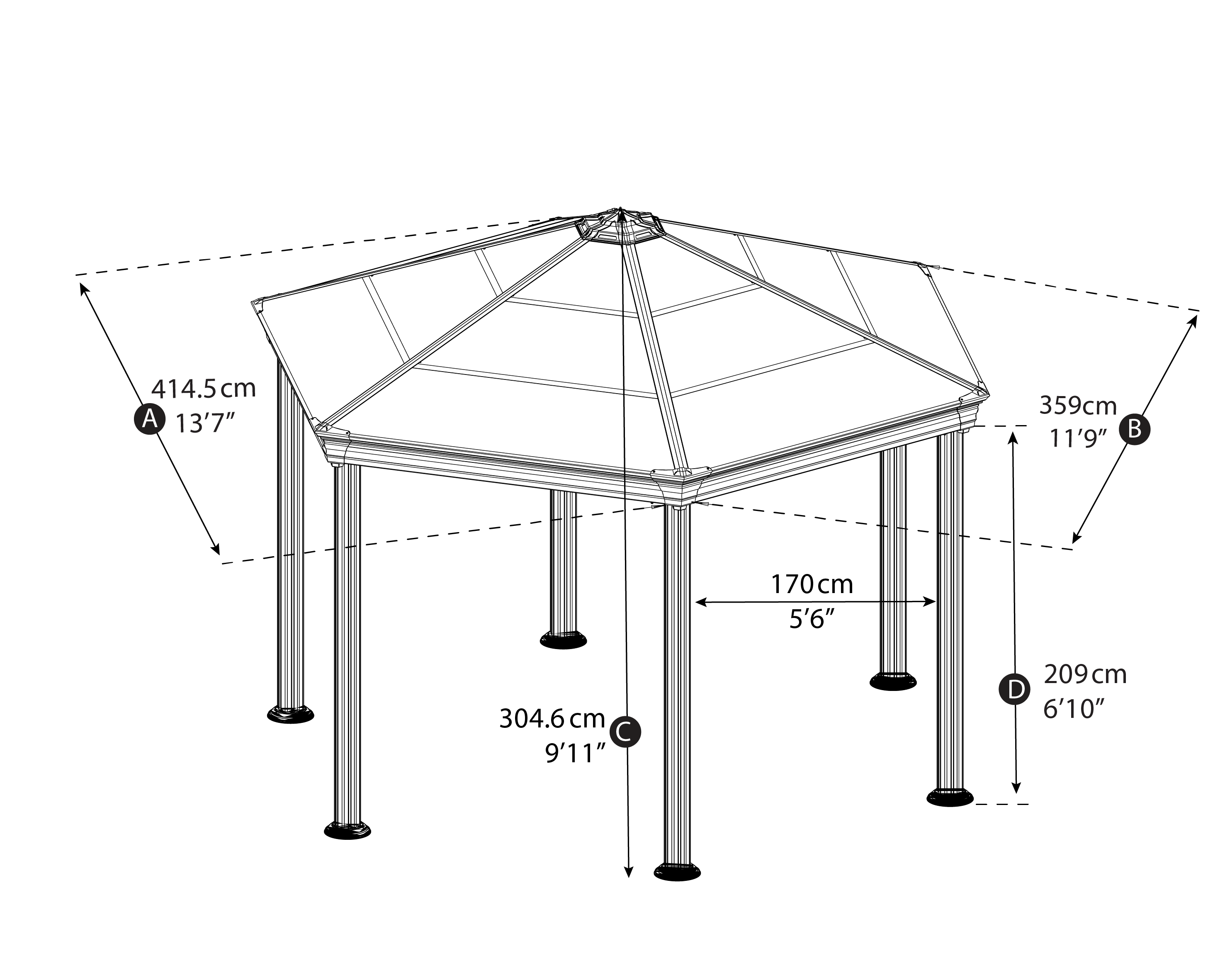 Product Details
Integrated rails
The gazebo comes equipped with a kit of hooks that can be used for hanging curtains /netting / flowerpots etc. (sold separately)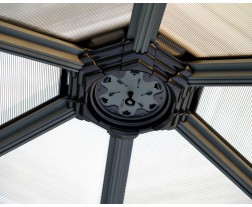 Versatile
Central hanging hook with multi-purpose mounting holes Threading electrical cables (fan, lamp etc.) is possible through the roof profiles & poles
FAQ
The Martinique / Milano / Monaco / Palermo / Roma gazebo series do not have 2 different tracks, therefore cannot be installed together.
The gazebo can be set up on grass / dirt, however there should be concrete footings to attach the poles to.
There is a slight slope in order to make sure that water will runoff.
Yes, the Gazebo is UV resistant, and has gutters and gutter outlets to channel and allow rainwater collection.
The gazebo's structure can support a ceiling fan hanging from it. Please make sure you install the fan and the wiring in a secure way, you may consult with a handyman as to how to attach it to the top.
Yes, you can use a small propane fire pit under the Garden Gazebo. Please make sure you follow the manufacturers' safety advice and keep a safe distance.
Yes, it is recommended to anchor it to concrete / concrete slab.
A spray may compromise the polycarbonate's integrity, it is not recommended to paint the panels. Please refer to the warranty.
Yes, this gazebo must be anchored. It comes with an anchoring and foot pads kit.
Yes, the polycarbonate panels can definitely stay on during winter season. There's no need to remove the panels.
Assembly guide
Assembly instructions & Certificates for Downloads
Foundation
The product must be built on a solid anleveled surface in order to perform properly.
Important
We recommend checking for restrictions or covenants for building this product in your area. In addition we advise to check if you need to submit any forms or if any permit is required prior to building the product.
Choose your foundation type
Need help making a purchase decision?
Fill out the form below and we will help!