Rubicon 8 ft. x 10 ft. Shed With Floor - Dark Grey Panels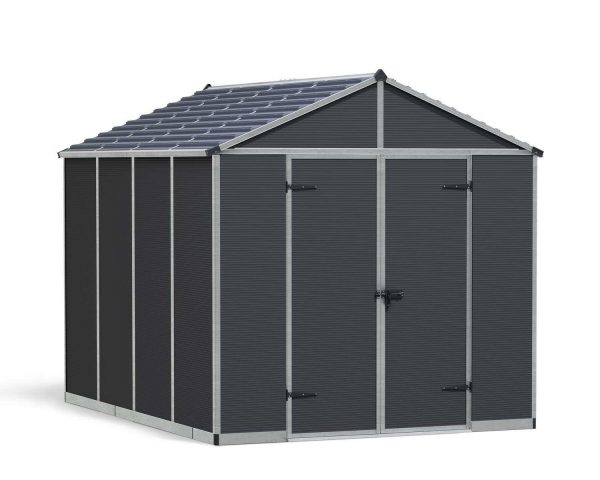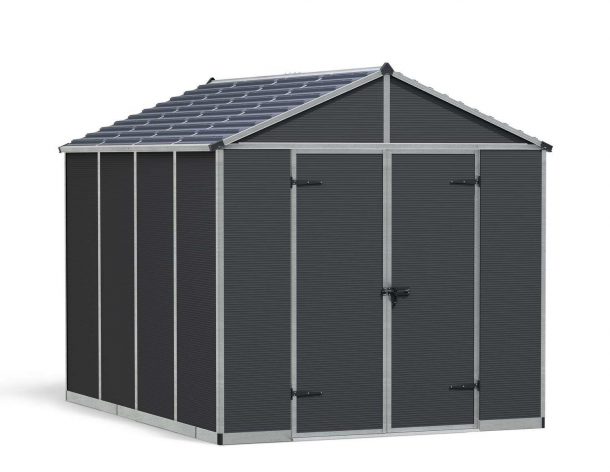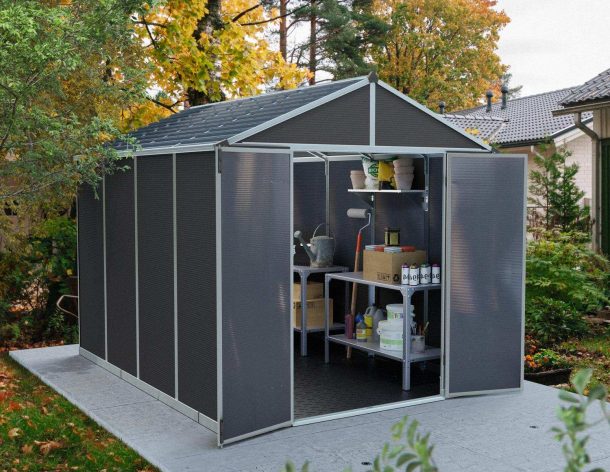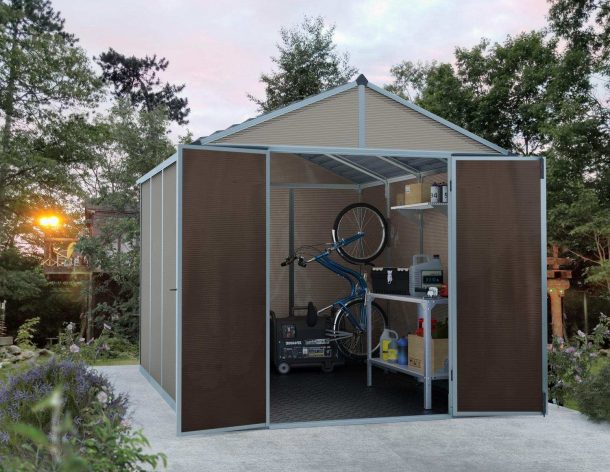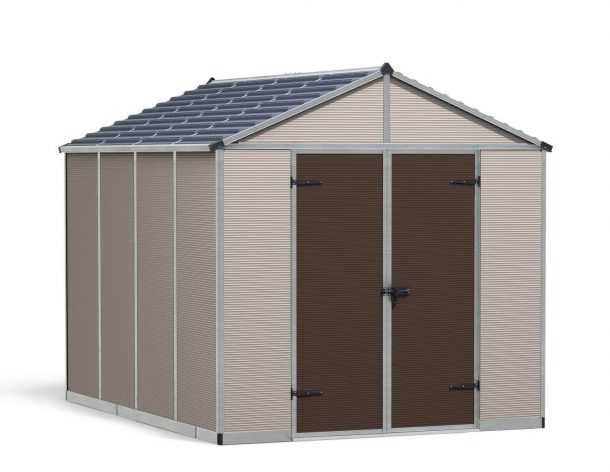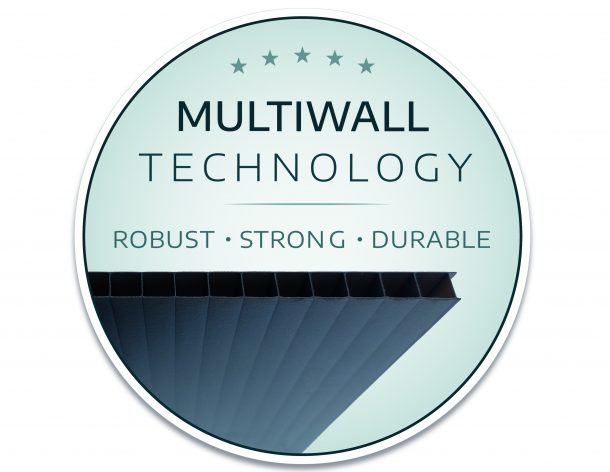 We all know the struggle of keeping tools and garden supplies organized, in place, and protected. Add an array of bikes, lawn mowers, and sports equipment and it's time for a shed.
The Rubicon Shed is the durable choice for storing, organizing, and protecting your outdoor life. Made with Palram-Canopia's virtually unbreakable multiwall polycarbonate panels and reinforced aluminum frame, the garden shed is a standout for its robustness and durability. It requires little to no maintenance, ensuring years of protection.
Made of 100% recycled materials, other features include a unique polycarbonate skylight roof panels that transmit natural sunlight throughout the day while maintaining an opaque exterior for maximum privacy. Rubicon outdoor storage sheds have the highest wind and snow load on the market, withstanding harsh weather conditions such as hail and high temperatures, and do not fracture, bend, or discolor.
Designed with your outdoor space in mind, the Rubicon ultra-durable storage shed will complement your home and enhance your outdoor living space.
Multiwall Panels: The 10mm multiwall fortified polycarbonate panels enhance shed insulation, and do not bow or sag even in extreme heat or break in the extreme cold. The material doesn't become brittle or discolor over time and resists humidity, fungal decay, and termites.
Aluminum Frame: The highly durable, maintenance-free frame provides added strength, stability, and resistance to the elements. The frame is strong enough to hold the weight of added shelves, racks, and hangers, all available for purchase separately.
Wind and Snow Load: Withstands winds up to 65 mph and 22.5 lbs./sq. ft. of snow.
Sunlit Skylight Roof: Roof panels transmit 10% sunlight while staying opaque from the outside for privacy.
Floor and Anchor Kit Included: Includes an anti-slip floor to keep you and your things protected and increase stability and weather resistance with an anchor kit. Can be anchored onto most solid surfaces including wood, concrete, and metal.
Metal Hinges: The door hinges are made of metal for durability over years of use.
Accessible and Secure: Low threshold ramp and lockable wide door provides easy access (padlock not included)
Easy Assembly: The sliding panel system includes pre-drilled profiles, pre-cut sliding panels, and all hardware. Please ensure you have sufficient side space for inserting the roof panels during assembly. Anchor shed to a solid surface using suitable screws and plugs (not included).
Available Sizes: 6×5, 6×8, 6×10, 6×12, 8×8, 8×10
Warranty: 12-Year Limited Warranty and local customer support
Model: #706946




Dimensions
| | | | |
| --- | --- | --- | --- |
| A | Length | 304cm | 9'12ft |
| B | Width | 237cm | 7'9ft |
| C | Height | 235cm | 7'8ft |
| D | Door width | 129.5cm | 4'3ft |
| E | Door height | 183cm | 6'ft |
Product Details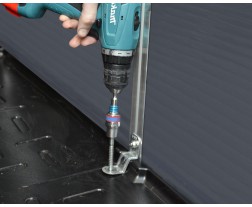 Anchor Kit Included
Secure your shed to the ground with the included anchoring kit to make the most of your sturdy structure, increase its stability and improve its weather resistance Can be anchored onto most solid surfaces, such as wood, concrete, or metal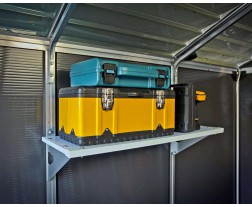 Strong Enough for Shelves
Frame is strong enough to hold the weight of added shelves, racks, and hangers
FAQ
It does not come with an option for adding windows. The sheds come with skylight roof panels which transfer 10% of the sunlight.
The fire rating is B-s1, d0
It is not recommended to paint the polycarbonate panels, it may compromise the polycarbonate's integrity. please refer to the warranty.
No, it is not an option, it cannot be performed.
Yes, it can be disassembled, relocated and reassembled at a different location.
No, it is not an option to get doors on both ends.
The SkyLight 6' Shed Series come with a floor kit. The SkyLight 8' Shed Series do not come with a floor kit. The Yukon Shed Series have an optional floor kit.
Yes, the polycarbonate panels are high impact resistant and withstand hail.
The warranty for all our sheds is for at least 10 years, some for more. The single layer or twin-wall polycarbonate panels maintain their integrity, they do not discolor, opacify, fracture or shatter over time.
Each wall section of the SkyLight Shed can carry up to 44 lbs. at most – an entire wall would depend upon the shed' size. Each wall section of the Yukon Shed can carry up to 88lbs. at most – an entire wall would depend upon the shed' size
Assembly guide
Assembly instructions & Certificates for Downloads
Foundation
Choose your foundation type
For a foundation, we recommend using three material types: Concrete / Pressure-treated wood/ wood deck / Paver blocks.
Need help making a purchase decision?
Fill out the form below and we will help!