Stockholm 11 ft. x 17 ft. Patio Cover Kit - Grey, Clear Glazing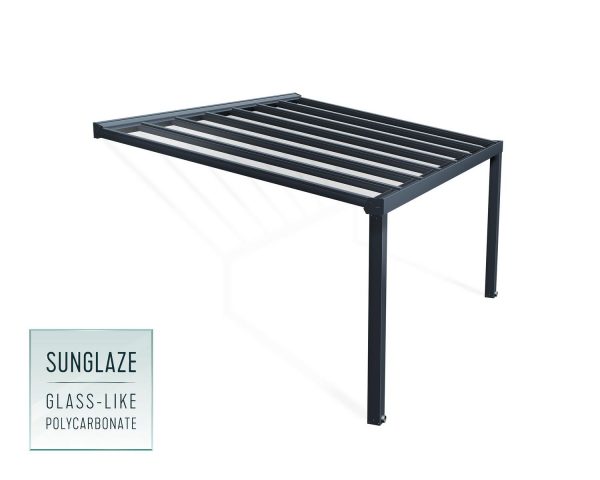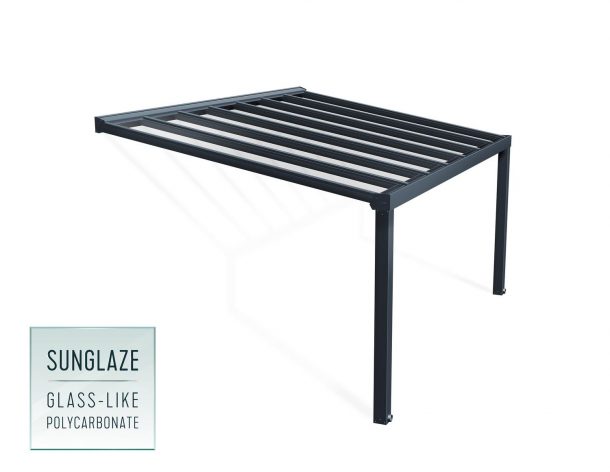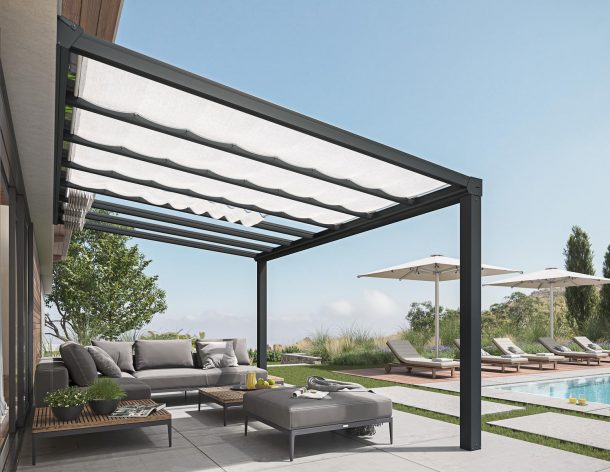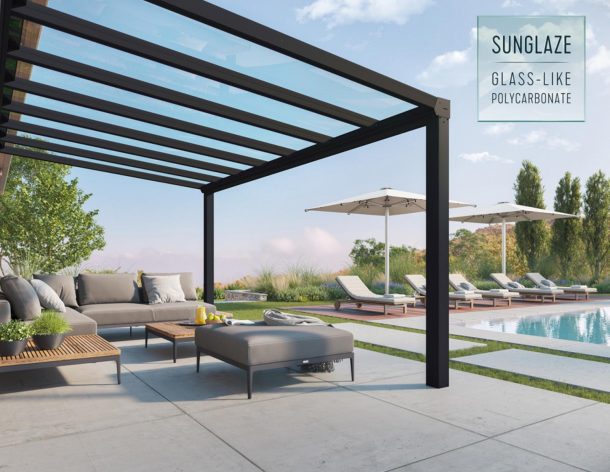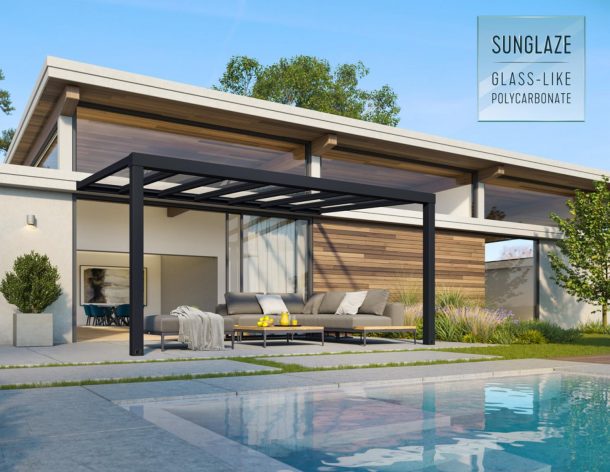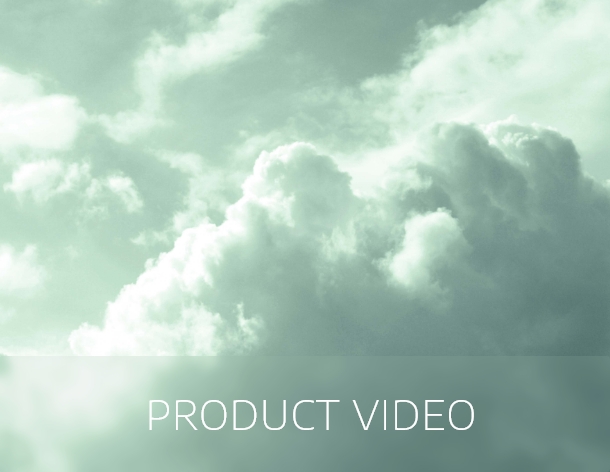 Make a statement with the massive and elegant Stockholm Patio Cover. The Stockholm patio awning has a clean design that provides you with an elegant living space to embrace the outdoors while being protected from the elements. The crystal-clear panels are made of polycarbonate, a virtually unbreakable high-end polymer, which provides 100% light transmission and all the benefits of glass without its associated drawbacks, making them exceptionally safe. They are high-impact, harsh weather, and UV-resistant, assuring strength and quality for years to come. This modern awning is designed to be enjoyed all year-round; allowing you to spend more time relaxing, dining outdoors, as a special place to hold parties and special events, or simply enjoying the view of your garden. Add style to your home and backyard in one weekend and spend years enjoying the view.
• Robust and massive structure – highly durable & rust-resistant anthracite powder coated aluminum profiles and galvanized steel connectors
• Unique screw-free patio roofing system provides a rust-resistant hardtop, leak-free glazing, and clean line design
• Virtually unbreakable, 100% UV protected, crystal-clear 4 mm solid polycarbonate roof system – protect from harmful UV rays, hail, and snow
• Unique panels installation and locking system
• Panels maintain their integrity and provide complete UV blockage; they do not discolor, fracture, or become brittle over time
• Integrated, internal hidden gutter
• Simple 2 person DIY installation – sliding panels' assembly system, ready to assemble pre-drilled profiles, pre-cut panels
• Wall mounting at a min' of 230 cm / 7'7″
• Aluminum patio cover maintenance-free
• Requires a solid level surface and solid wall support
• Compatible roof blinds are available
The Patio Covers are available in various sizes & colors. Click to find more patio cover kits.
Model: #705873



Dimensions
| | | | |
| --- | --- | --- | --- |
| A | Length | 515cm | 16'11"ft |
| B | Width | 330.5-341cm | 10'10"-11'12"ft |
| C | Height | 256.5-324cm | 8'5"-10'8"ft |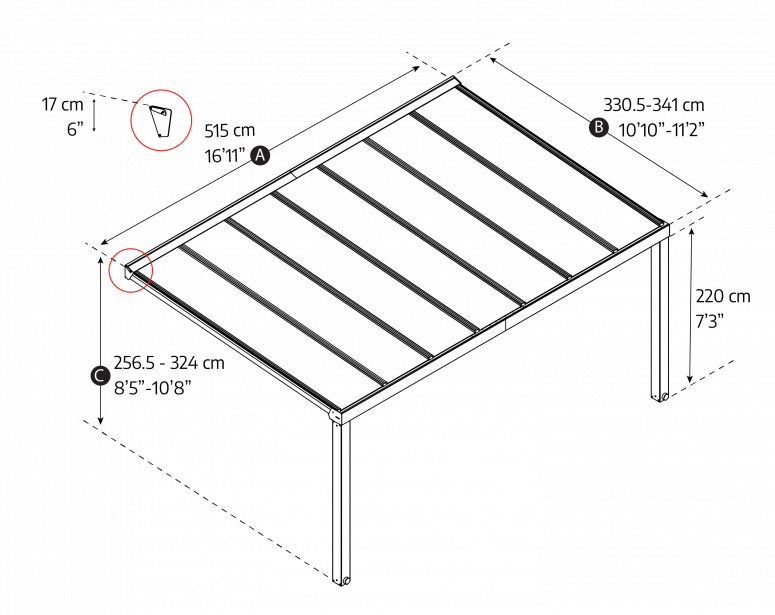 Product Details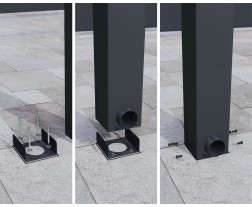 Anchoring included
Secures the patio cover to the surface of your choosing to make the most of your sturdy structure Increases stability and improve weather resistance Anchoring to a solid base such as concrete or asphalt is required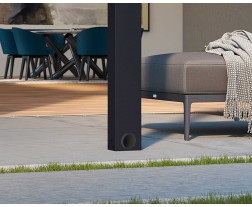 Gutters System
Hidden gutter and gutter pipe allow to channel rainwater and easily collect it for sustainable irrigation
FAQ
The patio cover structure can support a ceiling fan hanging from it. Please make sure you install the fan and the wiring in a secure way, we recommend consulting with a professional.
The sound of the rain makes a nice ambient sound, also depending on the rain's strength. *The rain noise is not loud. It is actually quite soothing. Doesn't bother anyone in this house at all, it's just a little ping noise. Kind of like one of those rain sticks noise makers.
The posts and beams are paintable, please refer to the warranty.
The patio cover's back beam is app' 4.6 inches wide.
Yes, it can be mounted to truss ledger, as long as its structure is long, wide and strong enough. We suggest checking this out with a local expert / constructor.
Yes, the polycarbonate panels are high impact resistant and withstand hail.
Yes, it can be mounted on to vinyl sidings, make sure you mount it on to the wall studs and use suitable screws and plugs.
Yes, a grill may be used under the patio cover, as long as it is a reasonable distance from the panels, it should be fine. Please make sure you follow the manufacturer's safety advice and keep a safe distance.
Up to two SideWalls can be attached to a patio cover, one on each end.
The patio cover can be installed on the ground; however, the posts must be anchored to concrete footings.
Assembly guide
Assembly instructions & Certificates for Downloads
Need help making a purchase decision?
Fill out the form below and we will help!